As a millennial, it's important that we begin to create good financial habits to govern our lives, starting with budgeting.
From a healthy morning routine, to being grown-up about money, as we get into this new stage in our lives, we need to make sure to put ourselves on the right track, or risk ending up in serious financial trouble.
From the blog Making Sense of Cents comes a new post that touches on some common bad money habits that are extremely easy to fall into. Whether you're of the "out-of-sight-out-of-mind" or the "it'll-never-happen-to-me" mindset, or any of the other bad money habits mentioned, this post is here to help you change your ways before it's too late.
Now, Not Later
Along the same lines, it seems that the bad habit of paying down debts more slowly to reap the rewards of 'more cash in hand how' is springing up, and Bridget Eastgaard of 'Money After Graduation' is here to tell us why that's such a terrible idea. As she says, it may seem like a smart strategy if you fail to crunch the numbers- pay a bit less this month and make sure you have something left over at the end of the month to treat yourself. But if you want to be really proactive when it comes to managing debt, it's important to be making smart decisions for the long term.
Prioritize, Prioritize, Prioritize
Though nobody wants to be in debt, oftentimes other priorities can get in the way of becoming debt free. You really want to be debt free, but you also really want a new car, or you really want to join your girlfriends in Vegas for the weekend.
A big part of becoming debt free ties back into what we discussed earlier, which is to get into the habit of making good choices about money. Eliminating debt should be a priority when setting your financial goals: this post from Club Thrifty is a helpful guide to take action on making that a reality. It discusses the fact that when we choose to become debt-free, we will inevitably need to begin saying 'no' to certain other enjoyments of life. Don't worry though: because in 2 or 3 or 5 years, when all that debt has been chipped away and you're left with nothing but income, it'll all have been worth it.
It's Still a Learning Process
When we turn to the internet for financial motivation and advice, it can be easy to fall into the assumption that we're the only ones who don't have it all together. This refreshingly honest post from Alyssa at Mixed Up Money shows a different side to financial stress, and will probably make you feel a little better about the unavoidable money blunders we all make.
So even if you're sure you're the worst money manager in the world, take comfort in the fact that you most certainly are not alone. As important as it is to keep tabs on our finances, and plan and budget accordingly, it's also important not to get hung up on our shortcomings. As long as we keep learning and experimenting, there's no reason to beat ourselves up.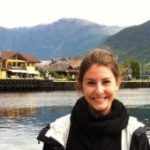 Helen Chevreau is a student teacher, blogger and global adventurer. She also happens to be the daughter of Hub CFO Jonathan Chevreau. She has a B.A. in English and has been blogging for four years. Her next stop is Scotland for postgraduate studies in education.