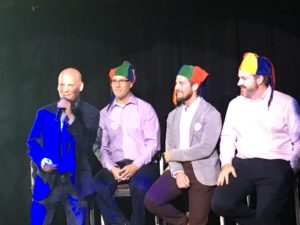 Motley Fool co-founder and CEO Tom Gardner and his team of Canadian stock analysts were in Canada for a members-only event in Toronto on Thursday night.
Pictured is Gardner (in blue on the left) asking for stock buy and sell recommendations from a panel of three Fool analysts. From left to right, they are Stock Advisor Canada's Iain Butler and Taylor Muckerman, and Pro Canada's Jim Gillies on the extreme right.
The colourful headgear is of course central to the Motley Fool brand. The stock newsletter publishing company is based in Alexandria, VA. It's also well known for its daily financial podcasts, with most of the panelists regular contributors.
The 6 Rules
Gardner kicked off the evening with his six rules for succeeding as a Motley Fool investor:
Rule #1:  Everyone should have at least 20 to 40 stocks. That's a minimum but there's no need to cap it at 40, Gardner said.
Rule # 2: If you want to be a great investor you will be right only 6 out of 10 times. You need to understand the statistics of investing and accept that you will often be wrong.
Rule #3:  No single position should be larger than 15% of your total portfolio. (This pretty much flows from Rule #2!)
Rule #4:  Every stock that you own for the long term will fall 50% at some point. As Warren Buffett has said, if you can't handle a 50% loss you shouldn't be in the stock market. Gardner cited the example of one of its early picks, Amazon.com, which at one point  fell from US$93 to US$7. "It's been cut in half at least three times in 15 years. My brother (co-founder David Gardner) recommended it a few months after the IPO and never sold."
Rule #5: Gardner recommends a minimum holding period for all your investments of five years.
Rule #6:  Expect 20% to 30% drops in the market every four years. Gardner cited research by Fool contributor (and Wall Street Journal columnist) Morgan Housel that shows the stock market falls 10% every 11 months on average, evenly distributed over time. For growth investors that often means a 15% drop. Gardner said if such drops tempts you to sell, you need to be more diversified or hold more cash so you're not tempted to sell during such declines. That's the time to buy.
Shopify leads tip list
Canadian tech stock Shopify Inc. (but it trades on the NYSE under the ticker symbol SHOP) was mentioned positively by the panel. Gillies was generally positive on the Canadian banks historically, although he had mixed reviews on Fairfax Financial. Gardner and the panel also made a contrarian case for adding to holdings in US stock Chipotle Mexican Grill Inc. (CMG/NYSE).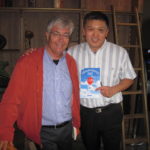 Also featured at the event was Robert Brown, author of Wealthing Like Rabbits, and myself, pictured with Fool member Alan Chan. (Alan is holding my book, Findependence Day). Both books were provided to members and Robert and I exchanged views on financial literacy and personal finance in a panel moderated by Motley Fool Canada general manager Brian Richards.