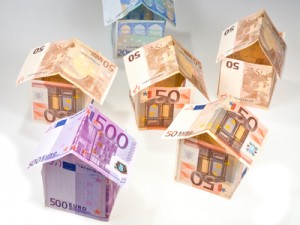 Mortgage costs may rise  up to $600 for typical first-time home buyers, the Financial Post reported Friday. Garry Marr says Canada Mortgage and Housing is tripling the fee it charges to guarantee loans in the mortgage-backed securities market.
Marr suggests the move is consistent with Ottawa's goal of cutting back its role in mortgage insurance but may also help to put the brakes on an overheated housing market. As Terence Corcoran reports in another column, the Bank of Canada has suggested the Canadian housing market may be overvalued by up to 30%.
For a typical mortgage of $250,000 for a first-time home buyer, Marr quoted a source who estimated the extra cost will be as much as $600.  It could mean a jump of up to 10 basis points on a five-year closed mortgage. The changes are effective April 1, 2015.
Those with less than a 20% downpayment are required to get mortgage default insurance if borrowing from a federally regulated financial institution.
Marr says that among the moves Ottawa has taken to cool the red-hot housing market has been to lower mortgage amortization rates from 40 years to 25 years.