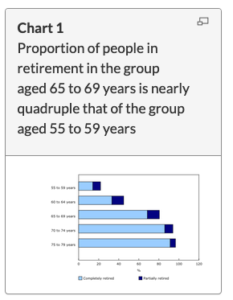 Canada's aging population means more retirees but most Canadians contemplating retiring say they would keep working if they could reduce their hours and stress. That was the top line of a Statistics Canada Daily release issued early in August. It was also the subject of a CBC Radio interview I conducted that aired in multiple cities on Thursday, Nov. 2.  Here's the link.  Go to Episodes, then Nov. 2nd, then click on the line that says Canadians would choose to work past 65 under certain circumstances.
The interviewer is CBC Business columnist Rubina Ahmed-Haq, who focuses on money, workplace and financial wellness.  The 4-minute interview with me and others touched on most of the topics this site does, including semi-retirement, entrepreneurship, Findependence and Victory Lap Retirement (the latter a book I co-authored with ex banker Mike Drak.). At the outset I clarified that I myself am still working at at 70, albeit self-employed through this web site and regular writing and editing for MoneySense.ca.
I was asked about the FIRE movement (Financial Independence/Retire Early) and I explained that while there are many FIRE proponents who claim to have "retired" in their 30s, in my experience these people have not really retired: rather, they have ceased to be salaried employees with the commuting grind, bosses and meetings and all that comes with it. Most have in reality become self-employed or semi-retired entrprepreneurs: in fact, many of the FIRE bloggers I have read are running web sites that accept advertising, and/or writing books that pay royalties and in some cases are on the speaking circuit accepting speaking fees. Having done all of these myself over the years, that's not my idea of full retirement!
10% of 70-plus cohort still working at least part-time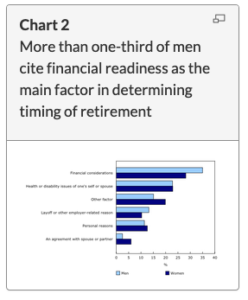 Going back to the Statistics Canada Daily, it reported that in June 2023, 21.8% of Canadians between ages 55 and 59 were either completely or partially retired. That doubles to 44.9% for those aged 60 to 64, and doubles again to 80.5% for those 65 to 69. By the time Canadians reach my age (70), it plateaus around 90% who are at least partially retired.
Interestingly, as I may have alluded to on-air, I can think of several people who are working well past 70, including some prominent journalists and financial gurus. I guess both are seen by proponents as a relatively satisfying occupation, particularly those who like myself do both by writing (or editing) about money.
Not surprisingly, for those who are completely retired, the main factor in determining the timing was financial: usually having qualified to start receiving pension benefits. This was cited by 35% of the men and 28.2% of the women who reported being completely retired.
The runner-up reason was of course Health, either theirs or their spouses', which often  induces people to stop working earlier than they may have planned for. This was the case for 22.8% of the completely retired men and 22.9% of the women. The average retirement age for men who retired early because of health or disability was 58.5, versus 61.7 who did so because of financial considerations. For women, the average retirement age was 56.9 for health reasons and 60.1 for financial reasons.
More than half planning to retire would keep working part-time
Finally, we come to the headline conclusion: 55.1% of those not yet completely retired but planning to retire said they would keep working longer if they could work part-time, and 48.9% would do so if they could work fewer hours without affecting their pension(s). 43% would keep going if it were less stressful or physically demanding, and 37.6% would do so if the work became more interesting. As Statistics Canada opines, "as the population continues to age, employers may want to develop incentives to retain experienced workers."
As I said in the CBC interview, it's arguable that the whole post-Covid work environment and the work-from-home or hybrid work-partly-from-home movements would seem to promise both reduced stress (if only from commuting) and likely reduced hours.