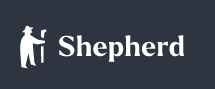 A book discovery service called Shepherd.com has just published a multi-book review by me about my recommendations for some of the best all-time books on Financial Independence and Retirement. You can find the full review by clicking here. Shepherd.com is a year old; an alternative to older services like Goodreads, it helps readers and authors share and discover books in various genres.
Picking just five books is of course a tricky exercise and having seen this published late in July, I soon thought of several other books I might have included as well or instead, notably David Chilton's classic The Wealthy Barber. But it's safe to say that with more than 2 million copies sold, that would not exactly be a ground-breaking new recommendation.
Chilton of course created a monster with the genre of the financial novel: a hybrid that combines a story and characters with an overlay of enduring financial insights and strategies for achieving financial freedom. He has spawned many imitators, such as Robert Gignac's Rich is a State of Mind and my own Findependence Day, which is also flagged in the Shepherd reviews.
For this exercise, however, I opted to go with straight non-fiction financial books. My thinking was what books influenced me in my own journey to Semi-Retirement and Financial Independence, or the so-called FIRE movement, for Financial Independence Retire Early.
Here are the 5 books I did pick: go to the original link to get my analysis and reasons for each pick. Below I offer just a line each but each explanation is closer to 400 words so be sure to click on the original Shepherd link to get the full take on each. The five titles below each include hypertext to the Shepherd book store where you can order directly.
1.)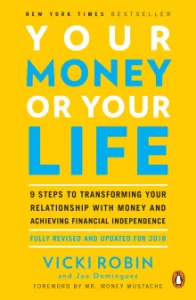 Your Money or Your Life: 9 Steps to Transforming Your Relationship with Money and Achieving Financial Independence
By Vicki Robin & Joe Dominguez
Probably first for most other proponents of the FIRE (Financial Independence Retire Early) movement is this classic, subtitled Transforming Your Relationship with Money and Achieving Financial Independence.
2.)
Enough: True Measures of Money, Business, and Life
By John C. Bogle
The late Jack Bogle, founder of Vanguard Group, published this excellent book in 2009. To me, the title speaks for itself. The sooner you realize you have "enough," the sooner you can quit the rat race.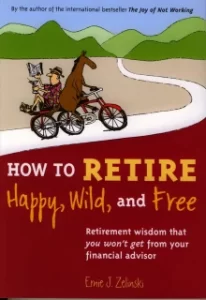 3.)
How to Retire Happy, Wild, and Free: Retirement Wisdom That You Won't Get from Your Financial Advisor
By Ernie J. Zelinski
Edmonton-based author Ernie Zelinski is probably best known for this self-published international bestseller and several others, all on the theme of escaping from full-time employment as soon as possible.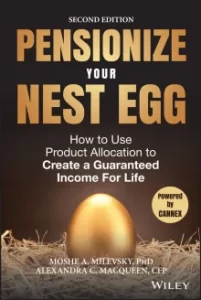 4.)
Pensionize Your Nest Egg: How to Use Product Allocation to Create a Guaranteed Income for Life
By Moshe A. Milevsky, Alexandra C. Macqueen
This book by the famed Finance professor and a certified financial planner caters to anxious would-be retirees who do not have the luxury of having an inflation-indexed, guaranteed-for-life Defined Benefit pension plan offered by an employer.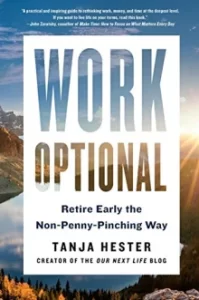 5.)
Work Optional: Retire Early the Non-Penny-Pinching Way
By Tanja Hester
The phrase "Work Optional" describes the state of being financially independent enough that you don't have to work for money anymore, but nevertheless choose to for reasons like having a purpose, or structure. As the subtitle suggests, it's about retiring early without having to be a miserly penny pincher.