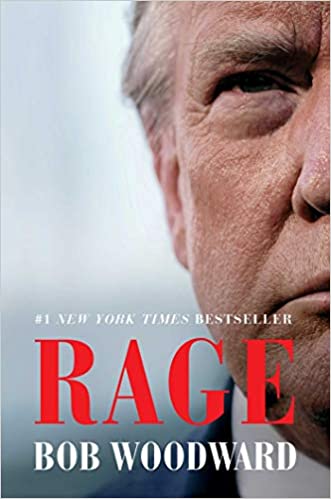 This will likely be my last review of a book on Donald Trump before the November election. Hopefully, he will be swept out of power and we'll never again have to pay attention to Trump books or anything else to do with the man.
For those who have missed my earlier reviews, we looked at several early Trump books and how it may affect investors in this blog originally published at MoneySense.ca.
Then, this summer we looked at Mary Trump's Too Much and Never Enough (here) and then Michael Cohen's Disloyal (here.) While we have been slowly reading John Bolton's The Room Where It Happened, we will probably not review it.
As for Woodward, Rage is his second book devoted to Trump (the first was Fear). Woodward has previously written books on four previous presidents. Trump did not grant interviews to him for Fear but famously submitted to 17 interviews for Rage, all but one of them tape-recorded.
That in itself was the basis for various Facebook memes where the ghost of a disgraced Richard Nixon chides Trump for the idiocy of letting Bob Woodward [whose reporting famously took Nixon down] tape-record him. When the early review copies of Rage came out, the focus was almost exclusively on Trump's early admissions (on tape, no less) that he knew Coronavirus would be very serious but that he deliberately downplayed it.
Rage, by the way, refers to the emotion Trump evokes in much of the public, notably the Liberals he seems to go out of his way to antagonize. The term comes from Trump himself, reprinted in the book's preliminary material: "I bring rage out. I do bring rage out. I always have."
Access to Trump both a plus and a liability
With such extended access to a long-winded Trump, Rage by necessity offers yet another platform for Trump himself to pontificate, defend and blame, as if his Twitter feed and access to the Fox News's of the world were not enough. All told, this consumes a fair bit of space, so you get plenty of content that doesn't add much value, such as Trump awarding himself an "A" in his handling of the Coronavirus panic; or his contention that his predecessor, Obama, wasn't so smart or a great speaker. Meanwhile Trump insists "I went to the best schools. i did great." As you might expect, Trump's obsession with Obama is never far away in his Woodward interviews, as here: "Ninety percent of the things he's done, I've taken apart."
But Woodward is writing as much for posterity as for present-day readers, and no doubt future historians will pore through these interview excerpts with great interest.
Woodward seems to bend over backwards to be fair to Trump but his true feelings are revealed right at the end of the book, which we telegraphed in the headline of this blog review:
"When his performance as president is taken in its entirety, I can only reach one conclusion: Trump is the wrong man for the job."
Early in Rage, Woodward recalls one of his early TV interviews about the first book, Fear, where he was asked for his bottom-line summary of Trump's leadership:
"Let's hope to God we don't have a crisis," Woodward said.
Trump got lucky during his first years in office but as we all know, Year Four featured one of the worst global pandemics in a century. Talk about his luck running out!
Woodward delivers a straightforward mostly chronological account of most of the major events of Trump's chaotic presidency, with the last interviews about the Coronavirus current to about July 2020. A lot of the content has been amply described in other books: the Mueller investigation, James Comey's firing, the impeachment, the departure of James Mattis, Rex Tillerson and a host of others.
Love letters to King Jong Un
Woodward also provides a lot of insight into the supposed "love story" between Trump and North Korea's Kim Jong Un. Woodward reveals that he had access to the letters Kim sent to Trump, but says Trump refused to show him the letters he sent back to Kim. "Those are so Top Secret," he quotes Trump, "You can't mock Kim. I don't want to get in a (expletive) nuclear war because you mocked him." Then he brags about some new powerful nuclear weapons he has, providing no details.
There's an amusing passage where Trump is incredulous that Amazon founder Jeff Bezos takes a hands-off approach to the editorial content of the paper he owns: Woodward's own alma mater, the Washington Post. I came away with the strong impression that if Trump owned such a powerful media property himself, he'd be all over it, promoting his friends and punishing his enemies, somewhat how he approaches the Department of Justice. Then, typically, Trump declares that coverage of his presidency has "saved" both the Post and the New York Times, not to mention cable TV. "When I leave, they're all going down."
Where the book comes into its own is its take (and Trump's) on the Coronavirus, starting around January  of 2020. That was the total thrust of the first reviews on the book. Trump of course continually sings his own praises for stopping flights from China to the U.S. but can't escape his many mentions of how the virus would soon go away, and magically.
Obviously, the book was published months before Trump himself came down with Covid, but no doubt future editions will cover that hugely salient point, as well as the outcome of a U.S. election that try as Trump might, could never have been about anything than the virus and his dismal response to it.
All in all, a good read and one of a handful of Trump books I'd recommend reading now I've had the misfortune of reading well over a dozen of them. Not as salacious as the first-hand accounts by Mary Trump or Michael Cohen but certainly well ahead of John Bolton's, which I still haven't managed to finish.