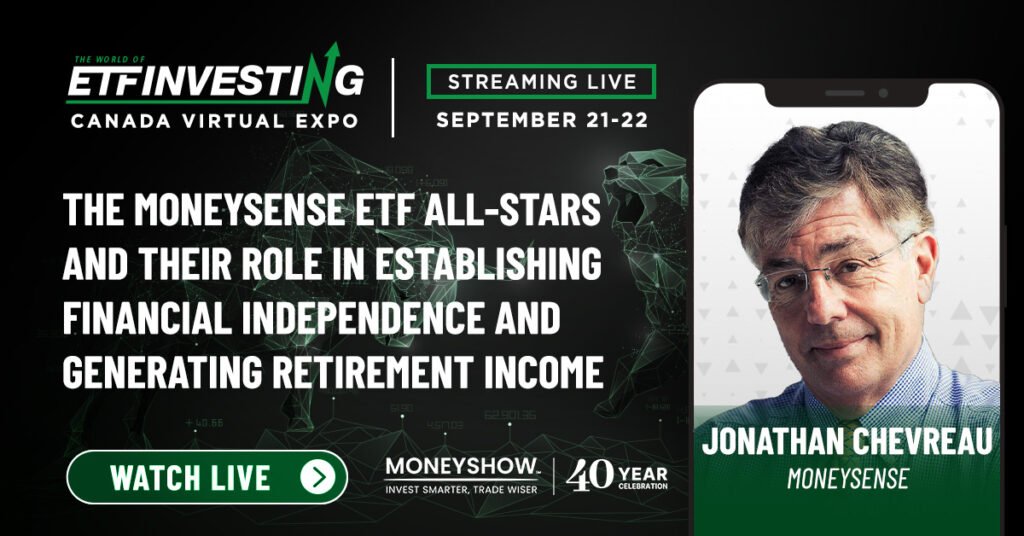 As this link published at MoneySense.ca on Sept 3rd indicates, I will be giving a half-hour virtual presentation on September 21st on how the annual MoneySense ETF All-stars package can help retirees and near-retirees build their nest eggs and then draw income from them. (i.e. Accumulation and Decumulation).
The World of ETF Investing Canada Virtual Expo talk is on Sept. 21. Registration is free.
Here's how MoneySense describes it:
Jonathan Chevreau, a longtime personal finance journalist, former Editor-in-Chief of MoneySense and the creator of our perennially popular Best ETFs in Canada package has said there's only one free lunch for investors—and that's the kind of broad diversification you can get from a low-cost, broadly diversified portfolio "core" based on exchange-traded funds (ETFs).
ETFs have become so popular that there are now roughly 1,000 listed on Canadian exchanges alone, with thousands more on US and international stock exchanges. Now in its 9th annual edition, I write up the feature each spring after conferring with an all-star panel of eight investing professionals and specialists. Together, we narrow the field to the very best options across five categories: Canadian, U.S., International, fixed-income and all-in-one asset-allocation funds.
In addition individual panelists provides their unique "Desert-Island Picks" that they are particularly passionate about and that may merit consideration, but don't achieve the full-consensus vote otherwise required to make the cut.
Personally, ETFs are the "Core" of my personal portfolio now that I'm living in "semi-retirement" — working part-time, on my own terms, while also drawing income from investments. This lifestyle was described in my coauthored book (with Mike Drak): Victory Lap Retirement.
All this is the focus of my keynote talk at this year's World of ETF Investing Canada Virtual Expo, Tuesday, September 21, 2021, at 9:30 am Eastern Time.  Register online for your free ticket, and you'll also get access to the full Virtual Expo, featuring more than 35 live presentations, with Q&As with the audience.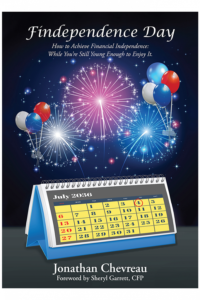 For those who are interested, this summer I also published the second US edition of my financial novel, Findependence Day. Available in paperback, hardcover and e-book editions, it's available through Best Books Media in New York. Here's the link to order directly from them; it's also available at Barnes & Noble and other online book sellers.
     While Findependence Day is a financial novel and Victory Lap Retirement is a more traditional non-fiction financial book, I see the two as complementary. Findependence Day is aimed at younger people and is a primer on creating Financial Independence, or "Findependence." 
    Once you reach the "Findependence Day" finishing line, Victory Lap Retirement describes how to enjoy the period of Semi-Retirement that increasingly is replacing the traditional full-stop Retirement that previous generations enjoyed.