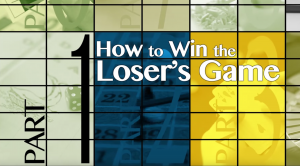 SensibleInvesting.tv recently released a free documentary that's a behind-the-scenes look at the multi- billion dollar investment industry.
How to Win the Loser's Game includes interviews with Vanguard founder John Bogle, Nobel Prize-winning economists Eugene Fama and William Sharpe, author and wealth manager Larry Swedroe, among many others. (To view Part 1, which runs for six minutes, click the red link above, which takes you to YouTube.com). You can also find it and future instalments housed here at Findependence.TV.
While the publisher is UK-based, most of the concepts are widely applicable to most of the fund management industry, both in Canada and the U.S.
The series clearly communicates the challenges that investors face and gradually covers the benefits of a low-cost, long-term, low-maintenance, diversified investment strategy.  This is valuable information for consumer-investors, although many in the investment fund industry would probably prefer that it not be widely distributed.
After watching the video if you want to learn more, download the free guide, 12 Essential Ideas For Building Wealth.
Paul Philip

"If you are serious about investing and building wealth the video documentary series 'How To Win the Loser's Game' is a must-see. It's excellent." — Paul Philip, Financial Wealth Builders Securities