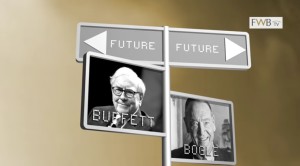 The latest FWB TV video is now up now here and at FWBSecurities.com, titled Can we expect lower returns in the future?.
As usual, it will also be housed at Findependence.TV.
The preamble to the 3.5-minute video observes that If you have invested for any length of time, you will have heard the expression "Past results are not an indication of future performance." The best minds in the investment industry not only agree with that but some feel that in the coming years we should prepare ourselves for lower returns than we are used to.
The corollary to this is that If the markets are indeed prepared to not be as generous, then keeping fees as low as possible has never been more important. We need to keep as much of the overall return as possible.
Among the experts host Robin Powell says have warned of future lower returns are the two pictured in the screen shot above: Warren Buffett and John Bogle. The video also includes a clip from  former hedge fund manager Anitti Ilmanen   (author of Expected Returns: An Investor's Guide to Harvesting Market Returns. He says bonds are currently yielding a real return of just above zero while at best equities may generate real returns of 4 to 5%, near the lower end of the 3-15% range that have been enjoyed in the last 100 years.
Attempts to time the market will usually fail, the video concludes.
After watching the video if you want to learn more, download the free guide, 12 Essential Ideas For Building Wealth.