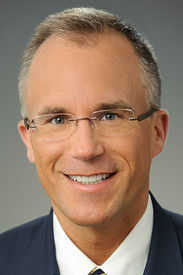 By Jonathan Chevreau
"The largest stealth bull market of our careers" is still very much alive, says BMO Capital Markets chief investment strategist Brian Belski.
In the keynote address  Wednesday for BMO Global Asset Management's Global Vision, Global Perspectives conference in Chicago, the American-born investment veteran said U.S. stocks are now six years into a 20-year secular bull market.
"Bull markets rarely end when everyone is looking for an end to them," he said, "The media is consumed with negativity."
Canada "bottoming"
While Belski believes America is setting the pace for global markets, Canada "is in the process of bottoming," he said. Most of the investment professionals at the three-day conference on mutual funds and ETFs are Canadian. It might not yet be quite time to buy Canada, he added, since the first quarter has been one of "shock and awe" caused by the worldwide plunge in energy prices. Looking further out, though, he said "Canada is the place to be."
One reason the Canadian market has languished is a call by a large Wall Street firm to "sell Canada."  He said the firm has a "G and an S" in its ticker symbol, meaning Goldman Sachs. While Canada makes up only 2% of the global market, at one point in 2014 some firms were overweight Canadian equities, to the tune of 4%, because of fears of the U.S. market. But the baby was thrown out with the bathwater, he said.
Leadership is coming from telecommunications stocks, industrials, railroads and especially financial stocks — including banks like BMO itself and rivals RBC and TD, as well as Canadian life insurance companies.  He said there is now a "generational opportunity" to buy financial stocks in both the U.S. and Canada. He singled out Bank of America, Wells Fargo and Morgan Stanley.
Loves "rackets" like cable stocks
On either side of the border, Belski is bullish on consumer discretionary stocks, particularly those  in "rackets" like cable TV. He likes Disney, Comcast and Verizon, and in Canada, BCE and Telus (no mention of Rogers). Even so, he is only slightly overweight the sector at 11% target weight versus 10.7% for the index.
Among Canadian energy stocks he likes Enbridge, Trans-Canada Pipelines and Suncor. In health care, he likes stocks that "keep me alive," such as Celgene, Gilead and Johnson & Johnson.
BMO is overweight the U.S. technology sector at 20%, versus 15% for the index. "Apple is the microcosm of the U.S. market" and the street is more positive on Microsoft Corp. following the departure of Steve Ballmer. Most investors are still underweight tech, he said, but warned that health care stocks have been become a "crowded trade" in the US., after reaching 25-year highs.
No housing bubble 
Moving on to housing, Belski said "I do not believe there is a housing bubble in Canada." To be a true bubble you have to demonstrate excess, not just prices going up. The Bank of Canada  has been very defensive in reaction to the plunging price of oil. He said the oil "pipelines will be turned on" once the administration changes in Washington. In the meantime, oil at 53 is "not the end of the world."
During a Q&A with advisors, Belski said the U.S. can go it alone but "I'm not saying it's decoupled" from the rest of the global economy. Asked about the inflation/deflation debate he said that in the short term we may be closer to deflation and that inflation in the U.S. will be about rising wages. "The Fed is now more fearful of deflation."