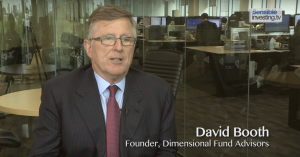 Sensible Investing TV has posted part 9 of its How to Win the Loser's Game series of videos, which you can view by clicking here. This 9-minute segment is the second-last episode of the ten-part series.
You can also find it here at Findependence.TV, where all the earlier episodes, plus those of FWB TV, are housed.
David Booth, co-founder of Dimensional Fund Advisors (pictured), says this:
"One of the big difficulties is getting people to stay the course when results are disappointing. It should come as no surprise to people that markets go up and they go down. When they go down, there's a tendency for people to go, 'Gosh, Are we on the edge of an abyss? Will things really get bad from here?'

In 2008-2009, it was difficult to get people to stay the course. My heart goes out to these people that were invested in equities, lost half their money then got out and missed the rebound. It may take quite a while for them to get back even again."
We need to stay the course, and this video shows why …. the culprits will be familiar to many investors: buying low and selling high, panicking at the worst possible time, listening to media noise. There's also a good segment featuring Vanguard founder John Bogle and the long-term returns that come from dividend yield and earnings growth, as opposed to speculation. 
After watching the video if you want to learn more, download the free guide, 12 Essential Ideas For Building Wealth.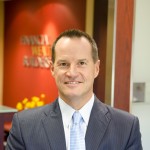 "If you are serious about investing and building wealth the video documentary series 'How To Win the Loser's Game' is a must-see. It's excellent." — Paul Philip, Financial Wealth Builders Securities