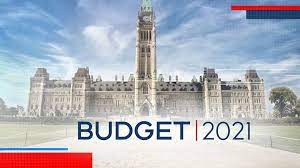 The first Federal Budget in more than two years was unveiled shortly after 4 pm Monday. You can get the official documents [all 724 pages of it, with the heft of a big-city telephone book] from the Department of Finance here.
It sports the title A Recovery Plan for Jobs, Growth, and Resilience. 
The last federal budget ["Investing in the Middle Class"] came down on March 19, 2019.
You can find the latest Budget tweets and post-announcement reaction under the hashtag #Budget2021, and on my Twitter feed @JonChevreau, which also scrolls on the right of this site. Minister of Finance Chrystia Freeland tweets as @cafreeland. Earlier Monday she tweeted that "we will finish the fight against COVID-19 and invest in job creation and a resilient economy."
Here is the initial analysis from the Globe & Mail [possibly subscribers only]; personal finance columnist Rob Carrick focused on the childcare initiative.  Also at the G&M, David Rosenberg rightly construed it as a vote-buying multi-year massive spending binge that Canada is unlikely to afford.
Here is what the National Post has to say; William Watson's take is here; I love this quote from him: "In terms of taxes, however, 'over-threaten and under-deliver' summarizes this budget." Terry Corcoran characterized it as Canada's Reverse Perestroika with a shift to centralized planning. Jack Mintz lamented the lack of fiscal anchors to hold back the Liberals. Diane Francis warned the pandemic spending spree is nowhere near being over, thanks to Justin Trudeau's bungling of the pandemic. Finally, CIBC Wealth's Jamie Golombek looks at five tax-related measures, notably the three replacements for the original CERB.
Here is the Reuters feed. One focus of the Toronto Star was an extra billion dollars devoted to Broadband infrastructure in rural communities.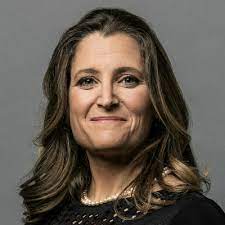 Billed as a post-pandemic Budget, it lived up to the prerelease leaks of a spending marathon the past week. In short it is Justin Trudeau's pre-election Spendapalooza 2021. More than $100 billion in spending over 3 years was unleashed, including $30 billion over 5 years and $8.3 billion a year thereafter for the centrepiece of it all: a National Childcare and Early Learning Program.
No real help to cool Housing Bubble and other measures that didn't happen
As interesting as what was announced is what many feared might be announced and didn't happen. As far as I can see at this point, there was no move to end the tax-free gains of a principal residence, nor did I see any changes in capital gains tax inclusion rates on investments in general. As Watson quipped about taxes, "Overthreaten and underdeliver."
Also in the category of things we're glad not to see is, as Global News summarized, no hike to the GST and no imposition of a Universal Basic Income, no broad-brush Wealth Tax [but new taxes on expensive cars, boats and planes] and no increases in Health Transfers to the provinces. There wasn't even significant help to cool runaway housing markets, apart from a tax on vacant or underused residential property owned by non-residents: as reported by Robyn Urback in the G&M.
Nor was there much about Pharmacare, to the dismay of the NDP.
Apart from that there was billions for everybody. As Andrew Coyne wrote in the G&M, the budget had to be the longest in history because "this budget is about everything."  He notes that the word "support" appears almost 1,000 times, and benefit/s more than 1,300 times.
OAS sweetener for 3.3 million seniors
A $500 one-time Old Age Security payment for seniors 75 or older [as of June 2022] is coming in August, followed by a 10% rise in regular OAS benefits in July 2022.
There's $5 billion for the climate crisis and a torrent of spending for businesses affected by the pandemic. The Canada Recovery program was extended but will weekly payments will ratchet down from $500 to $300, or from $2,000 a month to $1,200 a month. There's a new $595 million Canada Recovery Hiring Program. A minimum wage of $15 a hour for federally regulated workplaces. The wage subsidy and rent subsidy will be extended until late September, at which point it is hoped all Canadians will have been vaccinated against Covid.
Soaring Deficit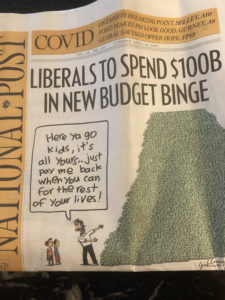 Naturally, all this spending means Ottawa will plumb new depths in the deficit and national debt: the forecast for the deficit this year is $154.7 billion: outstripping November's estimate of $121.2 billion. The deficit forecast for 2022 and 2023 is $50 billion and is projected to reach $354.2 billion for the 2020-21 fiscal year just ended. This is estimated to fall as pandemic spending ramps down.
The front page of Tuesday's National Post nicely skewers the likely impact for the Debt today's young people will inherit. (See left)
To pay for some of this, while they didn't impose a sweeping Wealth Tax, they are going after conspicuous consumption from the wealthy with a luxury sales tax on cars and aircraft worth over $100,000, and for boats costing more than $250,000. And as also predicted, a new 3% Digital Services Tax will hit tech giants like Facebook and Google, as of Jan. 1, 2022.  Vacant or unused land owned by non-resident, non Canadians will attract a new 1% tax as of Jan. 1, 2022. There will also be a Vape Tax on e-cigarattes.
We will update this blog as necessary.