By Billy and Alaisha Kaderli, RetireEarlyLifestyle.com
Special to Financial Independence Hub
Retirement is something that many people look forward to in their later years, but what if you could leave your career earlier?
The idea of retiring before the typical age of 65 may seem like a pipe dream to some, but it is becoming more and more of a reality for many people whether by choice or through layoffs. There are numerous benefits to this decision, both financially and in terms of lifestyle.
Financial Advantages
One of the main reasons people strive for early retirement is the financial benefits it provides.
To prepare, it's important to have a solid financial plan in place. This is a great way to learn the skills of creating a budget, tracking your spending, and paying down debt. We learn the value of maximizing retirement contributions and investing in non-IRA accounts. It's the time to build up retirement savings before beginning to withdraw from them. You can do this on your own, as none of this requires a professional advisor.
Acquiring these tools makes us financially strong and builds our self-confidence which then carries itself forward into other areas of our lives.
Of course there is the need to factor in the potential for unexpected expenses, such as medical bills or family emergencies. Which is why we recommend a few years of cash held in a highly liquid account such as Fidelity® Government Cash Reserves, FDRXX, currently paying over 4%. Access to this cash can also help in market downturns so you are not forced to sell at lower prices in order to live your lifestyle.
Another financial advantage is the ability to minimize taxes.
By retiring early, you may be able to reduce your taxable income and utilize tax-efficient investment strategies. For one thing, you will no longer be paying payroll taxes. Withdrawing money from your retirement accounts in a strategic manner, such as using Rule 72T before you are eligible, can minimize your tax burden in the future and potentially save you a significant amount of money in taxes over time. We did this as a monetary bridge until our Social Security was available. Once we started to receive these payments, we let our IRAs build back up again.
Lifestyle Improvements
Leaving your job or career early also offers a number of lifestyle improvements. For one, you will have more free time to pursue your passions. You could travel more, take up new hobbies, and spend more time with loved ones. We used this opportunity to give end-of=life care to our parents when that time came, something we could not have done while maintaining a full work schedule.
Early retirement can also allow you to lead a healthier lifestyle, with more time to exercise, cook healthier meals, and prioritize your mental health. You could even volunteer and give of your expertise and talents, something you never had time for while working your 9-5.
If you choose to become financially independent outside of your paycheck, you have the ability to avoid burnout. Many people feel overwhelmed by the demands of their jobs, and early retirement can provide a much-needed break while opening up new vistas for you. You are able to take a step back, reflect on your priorities, and perhaps even discover new interests and pursuits.
We did!
Taking advantage of options that seem to just appear
In our case we chose to travel the world, which gave us new perspectives on how to live our own lives. There is no one singular way to do anything, and seeing how other cultures approached community, family, and even the cooking of their food and the learning of a new language, opened up our eyes as well.
We also found out that Geo-arbitrage was immensely helpful to the growth of our portfolio. Making Dollars but spending in local currency at local pricing allowed us to minimize our yearly expenditures, as well as adding years to our physical lives by living in a more relaxed Chapala, Mexico.
We also volunteered locally, were offered opportunities related to our talents and met some incredible humans along the way.
Early Retirement is not for everyone
We realize that this decision to leave the familiar job and routine early is not for everyone. But if you decide you want to become financially independent and leave your career sooner than the norm, there are many benefits that come from that approach. We suggest that you start preparing yourself financially now so that when the time arrives you will be able to move easily into your new life.
You could have a lifestyle with more ease, reduce your tax burden, and pursue your passions. If you plan ahead and prioritize what's important to you, you can take your newfound freedom and utilize that time productively and with great satisfaction.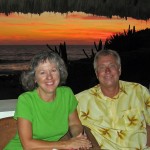 Billy and Akaisha Kaderli are recognized retirement experts and internationally published authors on topics of finance, medical tourism and world travel. With the wealth of information they share on their award winning website RetireEarlyLifestyle.com, they have been helping people achieve their own retirement dreams since 1991. They wrote the popular books, The Adventurer's Guide to Early Retirement and Your Retirement Dream IS Possible available on their website bookstore or on Amazon.com.