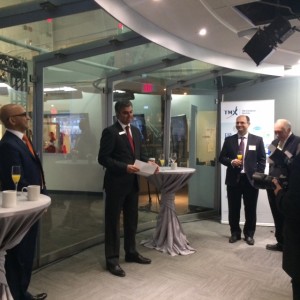 By Jonathan Chevreau
Canada is home to the first ever ETF and today (Monday, March 9th) Exchange Traded Funds celebrated their 25th anniversary at their birthplace — in Toronto, Canada.
TIPs — Toronto 35 Index Participation Units — were the first ETFs in the world and were launched in 1990 by the Toronto Stock Exchange.
To celebrate the occasion, members of the Canadian ETF Association (CETFA) and some media and analysts (including myself) were on hand this morning to ring the bell to open the TSX. Other events are planned in 2015 to further celebrate this 25th anniversary of the ETF.
The ETF industry continues to grow in Canada and reached an all-time high of $86.1 billion in assets at the end of February, with inflows of approximately $2 billion in the first two months of 2015, according to CETFA. It says investors and advisors have embraced ETFs and their benefits, which include low cost and a range of investment options.
Nine providers offer 425 ETFs in domestic market
Nine providers in Canada currently offer almost 425 ETFs. "It's been incredibly exciting to see the trajectory of ETFs, and their continued adoption in Canada, and globally," said Atul Tiwari, managing director of Vanguard Investments Canada Inc. in a release.
He is also the incoming Chair of the CETFA (pictured on the far left of above photo.) "ETFs are a powerful tool that give investors low-cost, transparent access to markets with precision, the ETF is arguably the most disruptive innovation the fund industry has seen in decades. Whether its investors, advisors or large institutions, ETFs have really put everyone on the same playing field. ETFs have empowered us all to build portfolios that can truly reflect the unique goals and objectives of each investor."
The Canadian ETF Association say it is the first and most active ETF Association in the world. It has 37 Members, three Committees and five Working Groups.