One of the key elements of the post-corporate Victory Lap Retirement lifestyle is self-employment. If this begins in your late 50s or early 60s, you'll be living on multiple streams of income. Some of it may be passive, such as pension income (I draw from two modest corporate pensions, for example) or non-registered investment income, but a big component is continued earned income.
If you are no longer a salaried employee, it's probably best to set up a sole proprietorship or even incorporate. I've always run a corporation alongside salaried employment and have found that once you're fulltime in business for yourself, It's hard to generate as much pre-tax income as a salaried corporate job does. However, there are significant compensations in time and flexibility, plus the net after-tax proceeds of self-employment are relatively more attractive than being a fully-taxed-at-source salaried employee.
One reason is the allowable deductions or "write-offs" for legitimate business expenses, which may include certain computer equipment, software and some services. Obviously you should consult with a tax professional and engage an accountant because you don't want to trigger an audit from the Canada Revenue Agency. After all, it's clear the new Liberal government regards self-employment with suspicion: my guideline is to "assume an audit" and act accordingly.
Time to upgrade equipment
I am writing this article on brand new equipment that replaces products that were as old as six years. My fiscal year-end is the end of May and it's been a decent year revenue-wise, so it seemed like a good time to book some legitimate expenses. Those whose calendar year-end correspond with their fiscal year (i.e. Dec. 31st) would go through this process at the end the calendar year.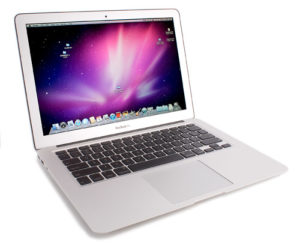 In my case, apart from the tax considerations of booking valid deductions, it really was time to upgrade the single most important business tool I use, which was an Apple MacBook Air.
After six years the machine had just about used up its storage and processing capacity and I had begun to lose significant chunks of time rebooting and closing applications. I use this machine for everything central to my business: running three web sites, word processing for writing projects, PowerPoint for presentations, Excel for number crunching, an online cloud-based accounting and invoicing program called Wave, and of course Internet browsing and email in general.
About the same time, I also upgraded my Apple iPhone from a two-year-old iPhone 5S to an iPhone 5SE. The salesperson at the local Apple store said he generally recommends doubling the capacity of these devices, and this is what I did. Like the MacBook Air, the iPhone was just about full at 64 GB, so 128GB is relatively luxurious. I use the iPhone not only for email on the go but listen hours a day to various financial podcasts and news services, all of which I'd argue are central to my business. I also use it as a camera, with many images ultimately running on my website or social media.
Old software may not be portable
One downside to the upgrade of the notebook computer was software. I've purchased Microsoft Office at least twice before: certainly I bought Office 98 and later Microsoft Office 2008 for the Mac. In both the case of the iPhone and MacBook Air upgrades I told Apple I wanted to essentially just move everything that was in the old device into the new one. This is a relative snap with the iPhone since it's all backed up in the cloud.
The process was remarkably similar with the MacBook Air upgrade, by using a G Drive, a peripheral that stores a massive terabyte of data. Magically, just about everything on my old notebook was moved to the new one, with one prominent exception. You guessed it: Microsoft Office for the Mac. The icons for MS Word, Excel and PowerPoint showed up after the move but they didn't function.

Figuring that the software world must have moved on somewhat in the last half decade I sprang for the 2016 edition of Microsoft Office for Mac. I didn't want to get Office 365, which involves paying an annual fee seemingly forever. That's an annuity for Microsoft but an ongoing expense I didn't want to commit to further down the road of my Victory Lap. Besides the cost was just $150 and a one-time expense at that.
I did discuss with Apple the possibility of its own free Pages software and related apps that are supposed to behave like Office but my online attempts bore little fruit, even of the Apple variety. A Google search also revealed various offers of "free" MS Office packages but I viewed those with suspicion. You want Microsoft's ongoing support and $50 for each of Word, Excel and PowerPoint every five or six years is hardly a deal breaker. In the end I went to a Microsoft website, gave them my charge-card info and downloaded the new package, assisted with a helpful tech support person I learned was based in the Philippines.
Enter Victory Lap with up-todate equipment
So now I have what I hope will be enough hardware, software and mobile device capacity to last me through the rest of my Victory Lap. I view this as similar to the common strategy of buying your last new car just before entering retirement, while you still have a good salary to pay for it.
Oh, one more thing: when I summarized to a colleague what I've just related here, my friend – another enthusiastic MacBook Air user – asked me about El Capitan. I didn't know much about it but discovered that indeed El Capitan is the name of Apple's latest operating system – O/S 10 El Capitan (version 10.11.3 is what the new machine came loaded with). I have more capacity now than I myself possess, the machine has far more battery life, everything works more quickly and there's less stress from technology grinding to a halt.
On an investing note, I've long owned the stocks of both Apple and Microsoft in my RRSP. They both pay nice dividends. While not 100% smooth, my upgrade experience at both firms was mostly positive and wouldn't budge me from continuing to hold those stocks.
As another friend often says, "It's all good."