Financial Independence Hub
To all our American readers, the Findependence Hub wishes a happy  Independence Day, or  as we like to say around here, Findependence Day.
Bloggers are fond of building posts around the July 4th celebration, and this year several are using the phrase Financial Independence Day. For instance, Forbes.com just published a blog titled Financial Independence Day for Millennials.
In fact, a year ago, Richard Eisenberg of Next Avenue and Forbes.com did just that, writing a similar piece entitled How to Declare Your Financial Independence. And he did make an explicit reference to Findependence Day, more on which below.
This weekend's Motley Fool Money podcast is titled Declare Your Financial Independence.
And a few days ago, the Energy & Capital Site alos used the same phrase in an online commentary: Financial Independence Day. However, the piece merely outlines 55 trading rules and doesn't get into the topic the way the Hub does.
The trend is clear and it seems from our vantage point that the next logical step is to use our contraction and call it Findependence Day!  It's not exactly a new term any more: the original book bearing that name was published in 2008 (more about which  below).
So for those for whom the term may still be unfamiliar,what exactly is Findependence?
It's simply a contraction for Financial Independence.
And Findependence Day? That's the day you achieve Financial Independence.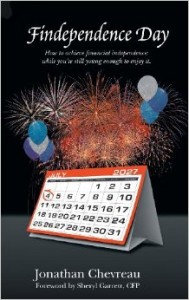 It also happens to be the title of my financial novel, the US edition of which is illustrated to the right.
Sound like Retirement? Not really.
Earlier this week, MoneySense and the Hub ran a piece titled How Findependence Differs from Retirement. That distinction, of course, is just about the whole raison d'être of the Financial Independence Hub. On a similar theme you can also find a piece I wrote for Money.ca earlier this year: Let's Retire the Word Retirement.
Eternal Truths series now complete
The Young Adult Money site devoted its July 4th blog to Lessons Learned from 3 Years of Blogging. Speaking of Young Money, the Financial Post's Young Money section on Tuesday ran the seventh and final instalment of the Eternal Truths of Personal Finance series: Don't say no to free money from the Government. Doesn't matter if that Government is Uncle Sam or Ottawa, the idea is pretty much the same.
For those who missed the first six instalments, you can find them all online under the FP's Young Money banner here. I've received lots of positive feedback on this series from readers and hope to pass some of it along in the next week or two here at the Hub.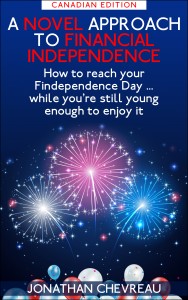 Regular readers of the Hub will be familiar with what's below and may wish to skip the rest but for the benefit of the many hundreds of new readers to the site that may have discovered it because of the Eternal Truths series, please excuse a small advertisement for my two books and spin-off Kindle ebooks,
I've been getting a lot of email queries from readers and my feeling is that if they find the Eternal Truths useful and they or their loved ones want more information to boost their financial literacy, this site and its books and ebooks may prove useful.
These are the financial novel, Findependence Day (Canadian and American editions) and the two "summary" Kindle e-books on them: A Novel Approach to Financial Independence (US $2.99, illustrated to the right of our home page) or the Canadian version (C$3.37, shown above.)
While the U.S. edition of Findependence Day was originally available via print-on-demand upon its publication two years ago, this summer the physical edition became available in American libraries, and through two large global distributors: Ingram Book Co. and Baker & Taylor.
Finally, this week Motley Fool Canada ran my blog titled Reminder: High Fund Fees = Lower Fund Performance.