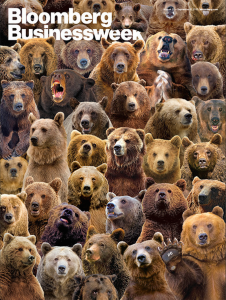 The 1,000+ point drop in the Dow Jones Industrial Average Monday morning will long be remembered by investors but, unless you sold everything at market prices in a panic that morning, those that just sat it out (or meditated, as we suggested that morning) were fine by week's end. You can find a nice recap of the market's near-death experience in this WSJ article, complete with charts:   U.S. stock swings don't shake investors.
Still, the scary start to the week was enough for one magazine to create the cover shown to the left. In what some bulls interpreted as a "reverse indicator," the current cover story of  Bloomberg Businessweek features not just one but several bears on its cover.
In a commentary on that phenomenon, Business Insider's Myles Udland noted that the market often does the opposite of what magazine cover indicators may be suggesting, which would make a bear cover bullish. Remember, Business Week famously proclaimed The Death of Equities in a cover in 1979, triggering a multi-year bull run.
China & other submerging markets
Mid-week rallies aside, one reason for the continued bearishness is China and other Emerging("Submerging?") Markets. One of Bloomberg BusinessWeek's accompanying stories was entitled Will the Next Recession be Made in China? It noted that after Monday morning's 1,000 point-plus drop, all markets seemed to be correlated: that "the world suddenly seemed like a very small place."
When The Economist came out on Thursday, its cover story was also on China: see the lead editorial, The Great Fall of China, and the accompanying in-depth report, Taking a Tumble.
But China is just the most prominent of Emerging Markets to be in bear mode. By the end of the month, according to the BBC's Linda Yueh, half of the 30 biggest Emerging Markets were in full-fledged bear markets (down 20%), including three of the four "BRIC" nations: Brazil, Russia and China. The fourth, India, was in "Market Correction" mode, down 10%.
Indeed, Brazil's troubles are directly related to those in China, as the Wall Street Journal reported on Thursday: How Brazil's China-Driven Commodities Boom Went Bust.
Little wonder that on Wednesday, after the market's phoenix-like 600-point rise from the ashes, Marketwatch put out a piece titled Here's why the stock market correction isn't over yet.
Frugality gives us more options
Depending on how all this shakes out, we all may forced to be more frugal in our daily lives. The nice thing about Financial Independence is you have more options, a point nicely made recently at The Frugalwoods site (slogan Financial Independence and simple living). The key sentence in the piece, Frugality Gives Us Options, is this one:
Not spending takes more effort but yields the benefit of putting you in a position of power. Instead of being ruled by your money, you're fully in control of it.
Findependence and NOT keeping up with the Joneses
Meanwhile, the Reach Financial Independence blog has an interesting piece about the proverbial Jones family (as in Keeping up with the Joneses), titled When the Joneses want to belong. Key line:
Why do the Joneses want to drag you into their little circle so bad(ly)? Why can't they live in peace with all the stuff they have and their like-minded peers?
Impact of Voluntary CPP on Employers
Good piece by pension lawyer Jean-Pierre Laporte in the current issue of Benefits Canada on the implications of a voluntary Canada Pension Plan on employers. Laporte is in favour of the voluntary CPP and in fact proposed a version of it (a "supplementary" one) in 2004. One model he thinks might work is Keith Ambactsheer's  Canada Supplementary Pension Plan proposed in his 2008 C.D. Howe Institute paper. Laporte also did a short blog on this topic for the Hub on Friday: Ottawa starts consultations on voluntary CPP.
In praise of older workers
Sheryl Smolkin's Retirement Redux site looks at encore careers and "re-entry" careers in her interview with Carol Fisher Cohen: Author of the 40-year Intern. She concludes that people who return to work after a major career break have real energy and enthusiasm about returning to work just because they've been away from it for awhile.
The Hub goes to the Far East
Finally, I'll be in Hong Kong and Taiwan the next two weeks. However, we expect to have Internet access and the Hub plans to continue to publish most days of the week (Sundays excepted).