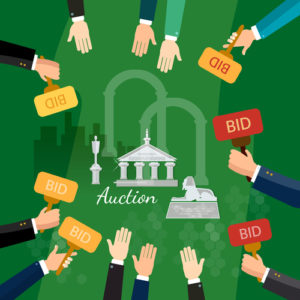 By Sheila O'Hearn, Zoocasa
Special to the Financial Independence Hub
The real estate industry has a popular saying: "All's fair in love, war and real estate."
Nothing could be applied more significantly when it comes to today's bidding wars on the home of your dreams. Like it or lump it, bidding wars show no signs of waning anytime soon.
Toronto real estate and Vancouver real estate exemplify two of the world's most sizzling markets that are leading in bidding war trends. Statistics show that sales of existing homes rose by 8% in February, compared to the previous February, and the national average home-price climbed by 17 per cent.
In Toronto, the average price of a detached house capped $1.2-million in February 2016, and house prices rose 15.7 per cent in May 2016, compared to May of last year. In Vancouver, the average selling price of a single-detached home rose to $1.8-million in January, a 40 per cent increase from prices in 2015.
It's a seller's ideal market!  As a potential buyer, arm yourself with these three pearls of wisdom:
1.) As a competitive buyer embroiled in the trenches of bidding war strategies, be prepared for high drama and an emotional roller-coaster ride until you've sealed the deal.
2.) Where markets are red-hot, the asking price can be part of the real estate marketing strategy to attract multiple offers. We're seeing properties selling for hundreds and thousands of dollars over the asking-price.
3.) Prepare yourself for initial disappointment. A bidding war means the true worth of a home is hard to estimate in today's hot markets, subject to competitive tenders offering to pay more than what was asked. While that may not seem fair to many potential buyers, it's only human nature that sellers should enjoy reaping the bounty of their gains.
Seven top tips on winning a bidding war
Although money is often the deal-breaker, it's not necessarily the only consideration. If you confront a multiple-offer situation, these tips could nudge you closer to the prize:
Unconditional offer
Don't even bother with a conditional offer if you want to win a bidding war. Have your financing in hand before you approach any property. A mortgage pre-approval and the largest down-payment you can afford instantly sends a message to the seller that you're serious about buying their home.
Adhere to the seller's timeline
This is one of the major deal-breakers. A seller might have purchased another property and won't want to wait for the potential buyer to free themselves from their current abode. Before the bidding process, you want to be pre-approved and ready to move.
 Do your research
Learn as much as you can before making an offer about the neighbourhood and its market values and trends, and the property itself. What can you learn about the sellers that you might use in an honest way to your advantage? Observe if they have children or are avid gardeners or are antique collectors. What's in the neighbourhood that you can praise and will be music to the seller's ears? Chat 'em up and do it shamelessly!
 A sincere love letter
Running with the theme of love, go one step further and pen a letter, detailing what you love about the home and why you want it. Making a personal connection to the seller can help. The reasons why someone is selling a home, or a parent's home, can be emotional. Complimenting them on the condition or décor of a property, especially a heritage home that might have been passed on to a generation or two, translates to deep attachments. Do not vilify something not to your taste in the seller's environment. It's a big turnoff when you're trying to leave a memorable and endearing impression of who you are.
Early inspection
Once upon a time, you could include a home inspection in a conditional offer, but in a frenzied market, the better option is to take your home inspector with you a viewing. You can be sure other potential buyers are doing likewise.
Reports state that 1 per cent of the house's asking price should be set aside for pre-buy home inspections, and it's money well-spent. Better to know before you decide to bid if the home that interests you is riddled with problems.
Firm offer
If you want to forge ahead in battle, don't include special terms or conditions to your bid, such as: fix this roof or repair that fence, and then I'll give you an offer you can't refuse—especially when someone else is willing to pay over the asking price for the home as-is. All the more reason to bring that home inspector with you to open houses to help you decide your options.
Poker Face
The game is on! Discover if any other bids have been offered. With the help of your agent, try to gauge what those bids might be against the asking price. You might want to tender the high-end of your pre-approval, rather than risk the low end.
To recap, the most important coats of mail you'll need to don to the bidding war are:
Mortgage pre-approval
Heightened market value awareness
Home inspector at your side
A knowledgeable realtor
And remember: bidding wars are emotional; they have a way of sweeping you up in the auction fever. Know your limits and stick to them.
Zoocasa is a real estate brokerage based in Toronto.  Sheila O'Hearn is a freelance and creative writer, and has worn many hats throughout her career, from general staff reporter to magazine editor. She has a keen interest in business entrepreneurship and currently writes for several outlets. Check out her LinkedIn for more info.