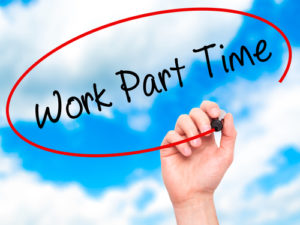 I predict that many aging Baby Boomers will — either by preference or financial necessity — delay traditional full-stop Retirement and instead embrace Semi-Retirement.
My latest Retired Money column, which has just been published at MoneySense.ca, explores the positive effect on retirement nest eggs of working at least part-time after the traditional retirement age of 65. For full article and chart, click on Should you work part-time in retirement?
It's based on an analysis by ETF Capital Management, which showed the powerful impact of earning just $1,000 in part-time income each month between the age of 65 and 75; or in the case of couples $2,000 a month between them.
Not working at all after the traditional retirement age of 65 has financial implications, never mind boredom and lack of social interaction. In the case of a retiree with lifestyle expenses of $60,000 who undertakes a full-stop retirement at 65, and earns no extra income, there is a sharp fall in a $500,000 (combined registered and non-registered) portfolio starting at age 65. By the time they reach their early 80s, the nest egg is depleted to zero.
But a couple earning just $2,000 a month between them part-time after 65 and going until 75 will find the extra income delays the portfolio's drop below zero beyond their early 90s. Not only does the nest egg not decline the first ten years, but it actually rises! By the time you reach 75 and finally stop working even part-time, the portfolio declines from a higher level and much more gradually.
Of course, the more you work, the better: for a couple earning $3,000 a month between them, the portfolio still has more than $200,000 by their 90s!  Similarly, the analysis also shows what happens if you work extra hard, which many might argue wouldn't even qualify as retirement. At $4,000 a month the portfolio is barely depleted at all by the time they reach 100!
Isn't this really Semi-Retirement?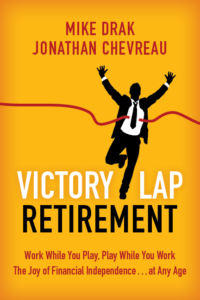 Now you could argue that working part-time from 65 to 75 doesn't really constitute "retirement." True, I'd call it Semi-Retirement, or what my writing partner Mike Drak calls "Victory Lap Retirement."
That's the name of a book the two of us have written that will be available in bookstores early this fall, and which can be preordered now at www.victorylapretirement.com. You can find some blogs there that give a taste of the book, some of which may appear here on the Hub, like this one. You can also find an excerpt from the book in the current Retirement issue of MoneySense magazine.
Working at least part-time is a big part of the focus of the book, as is the idea of developing  a so-called "Portfolio career." That means cobbling together multiple small sources of income in your Victory Lap, not just because you may think you need the money, but because you realize you need the continued mental and social stimulation that keeping a hand in productive activities entails.