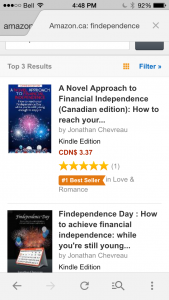 A Novel Approach to Financial Independence is one of the bestselling e-books in Amazon.ca's Love & Romance category this weekend, as you can see in the screen shot to the right. Here's the link to Amazon's listing.
Love & Romance? What about personal finance? Well, I've always described the original Findependence Day as a financial love story so it's not as out of the box as it may seem at first blush. Click on the red link in the title above to find out more about the Romance plot that's at the heart of the original novel.
The full book features a couple, Jamie and Sheena, who are 28 at the start and follows their ups and downs as a couple over 22 subsequent years. It takes a "life cycle" approach to personal finance and centers around Jamie's declaration that he will become financially independent ("findependent") by the time he turns 50. There are numerous setbacks along the way, including business failure and betrayal, separation, children and more.
As CTV Senior Financial Commentator Patricia Lovett-Reid says in the foreword to both the original book and the e-book, money troubles are often the cause of marital disharmony. You can read that foreword, by the way, for free because it's near the start and Amazon lets you "look inside."
e-book is a "Coles Note" synopsis of the novel
I liken the e-book  to a "Cole's Notes" synopsis of the original book, summarizing the plot but focusing more on the content on financial independence. It's short (15,000 words) but costs only C$3.37. Amazon lets you designate purchases as gifts and with Christmas just around the corner, you have to admit it's pretty cost-effective! Especially if you can change a young person's life for the better, as we say in the ad below (also shown on the front page of Findependence.TV).
There is also a U.S. edition of the full novel available here, as well as a U.S. edition of the e-book, which you can find on the main page of this site.