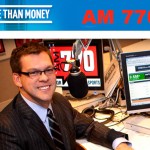 This audio clip is from the More Than Money radio show from Calgary, recorded shortly after the Hub launched. The focus was on a MoneySense blog I'd written after the question "Will your retirement date be a surprise?"  was posed in a Sun Life poll. But we also touch on the longevity theme that is the focus of the Longevity & Aging section here at the Hub. There's also an update on the launch of the Hub and the recent e-books.
When you get to the show's link, just press the small "Play" icon next to my name, or indeed the same icon next to any of the other guests' names there.
P.S. See also Sheryl Smolkin's piece on the same theme, Will You Get to Pick Your Own Retirement Date?, at her Retirement Redux site. Sheryl wrote a piece on her journey to Findependence here at the Hub last week.