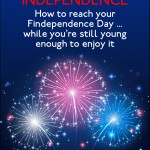 For those who missed the announcement on sister site FindependenceDay.com, here is the  blog on this morning's launch of the Canadian edition of A Novel Approach to Financial Independence: How to Reach Your Findependence Day …While You're Still Young Enough to Enjoy it.
As we say in the ad at the top of Findependence.TV, it costs only US$2.99/C$3.37, takes a minute to download and maybe an hour to read … but it could literally change your life.
Don't believe it? Read elsewhere on this site how the original book inspired one millennial, Sean Cooper, to become mortgage free and independent by age 31.
If anyone pre-ordered the e-book, it should now be on your Kindle or Kindle app on other devices. If you like it, or even if you didn't, please share your feedback with a short review at Amazon.ca or Amazon.com.
One last thing, the five discussion forums should be up and running. We've seeded each with a starter thread to stimulate dialogue.