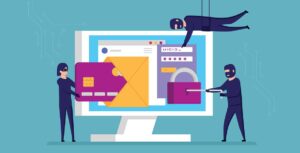 Yes, it's March, also dubbed Fraud Prevention Month. To mark it, a TD survey has been released that finds fraudsters are getting more persistent as the cost of living keeps soaring.
While 62% of Canadians agree they are being targeted now more than ever, a whopping 46% haven't taken any measures to educate themselves or take protective measures in the past year.
Among the findings:
47% believe the rising cost of living and other financial hardships will expose them to more scams
78% don't have much confidence in their ability to identify fraud or scams
54% feel stressed or anxious about financial fraud
31% are too embarrassed to tell anyone if they were the victim of a fraud or scam
66% of Gen Z and 44% of Millennials admit they wouldn't tell someone if they were swindled
The full press release is here.
"As Canadians report being targeted by a record number of financial fraud attempts, many can benefit from using the tools and resources available to protect themselves and their loved ones," says Mohamed Manji, Vice President of Canadian Fraud Management at TD in the release, "It's very important to exercise caution, especially at a time when fraudsters may take advantage of the economic challenges many Canadians are currently facing. In addition to the robust security measures TD has in place for its customers, the best defence against financial fraud is being aware and knowing how to spot it."
Both TD and the Canadian Anti-Fraud Centre offer a comprehensive library of articles discussing the latest trends in scams and measures Canadians can take to enhance their awareness and avoid falling victim to fraudsters.
Targeting mostly via e-mail or telephone 
The survey found 72% of Canadians reported being targeted by email/text message fraud, up 14 percentage points from last year, while 66% were targeted over the phone. Oddly, the poll finds Fraudsters seem to be pivoting away from social media, with only 26% targeted this way, 10 percentage points less than 2022.
Those polled were most concerned about identity theft (52%), title fraud (23%) and fake emergencies (20%).
Factors likely to increase vulnerability to fraud include age (43%),  loneliness or isolation (35%), moving recently to Canada (34%) and financial hardship or job loss (32%).
"We're seeing more fraudsters preying on customers through the 'grandparent' or 'emergency' scam," adds Manji. "This cruel crime is often successful because it exploits someone's desire to care for their loved ones. If you get a call from somebody claiming to be a family member or friend in immediate need of funds, hang up the phone and call them back using a number you have for them."
TD says that with 31% saying they'd be too embarrassed to tell anyone if they were a fraud or scam victim, it's clear there's some stigma in talking about this type of crime. If someone believes they've fallen victim to a scam, they should immediately report it to their financial institution, local police department, credit bureaus (Equifax and TransUnion) and the Canadian Anti-Fraud Centre.
How can Canadians protect themselves?

TD recommends the following tips and advice:
Get educated: Read and share TD fraud resources and advice to learn more about common fraud scams so you can more easily identify and avoid them.
Be alert: Remember your bank would never call you and ask for your personal information, or request that you make any financial transaction to help in a fraud or internal investigation. If you get a call from someone claiming to be with your bank's fraud department, hang up and call the phone number on the back of your debit card – it's best to use a different phone line, if you can. In addition, don't open links from email addresses and phone numbers you don't recognize.
Be honest: Your bank would never instruct you to lie or keep a secret. It's important to always be honest with branch staff as they're the first line of defence in helping to protect your money.
Regularly review statements and account activity: Money management apps, like the TD MySpend app, can be helpful tools and provide notifications of spending transactions in real-time, making it easier for you to quickly recognize fraudulent transactions. Immediately report any transactions you don't recognize to your financial institution.
Protect your personal information: Manage your card by using the TD app to lock a misplaced credit card or block international in-person purchases when you're not travelling outside of Canada. Always hide your PIN and passwords – and never give out this information to anyone. Your financial institution will never ask you for your banking credentials, such as your online banking password or the one-time security code that's sent to your mobile device or email address.
Stay informed: Use free services like TD Fraud Alerts to receive text messages to notify you of suspicious activity on your personal banking accounts.
 The TD Fraud Survey was provided by Maru Public Opinion for TD Bank Group: 1,521 randomly selected Canadian adults who are Maru Voice Canada online panelists were surveyed from February 3rd to February 4th, 2023.