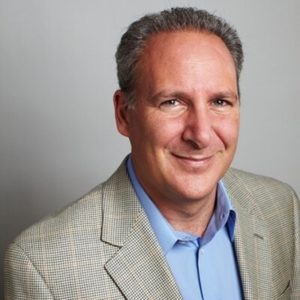 Author and US-based gold guru Peter Schiff is teaming up with a Canadian gold fin-tech company — Goldmoney Inc. — in a deal both parties expect will accelerate the firm's growth into "millions" of users seeking a "real-money" alternative to the "fiat" currencies of the world's central banks.
Initial details were revealed on Friday, when Toronto-based Goldmoney Inc. (trading as XAU on the TSX), announced its plan to acquire Schiff Gold Inc. (SGI) and form a marketing and service agreement with Schiff (pictured left).
The Hub last looked at Goldmoney and its Bitgold in this post in March: BitGold: a cure for savers frustrated with low or negative interest rates? The link also contains my blog on this for the Financial Post.
And we looked at a couple of recent books on the soaring gold price in a Hub post in June. You can find the review, which includes Schiff's The Real Crash, in this Hub review titled The New Case for Gold. The link also contains my blog on this for Motley Fool Canada.
The Goldmoney release describes Schiff Gold Inc. ("SGI") as a "private, US-based dealer in precious metals" that was launched in 2010 under the name Euro Pacific Precious Metals. It in turn was described as "one of the largest and fastest growing retail gold dealers" that services a large client base with buy and sell orders for precious metals, storage and vaulting arrangements and gold & silver IRA arrangement services."
Schiff is the "LeBron James of the gold market"
Once the deal closes, Schiff "will integrate and endorse Goldmoney services for clients and subscribers across various companies and media platforms." Gold money CEO Roy Sebag describes Schiff as "the LeBron James of the gold market with hundreds of thousands of trusted followers and an unrivalled track record in predicting some of the most important macroeconomic events of the last 20 years."
In a conference call late Monday afternoon, Sebag noted that a YouTube video featuring Schiff and Goldmoney's Josh Crumb posted on Saturday  generated 15,000 page views and 400 comments within 48 hours. By Monday morning that alone generated $2 million of business for Goldmoney, Sebag said.
For his part, Schiff is quoted in the release as being "thrilled to be joining the Goldmoney team. For my entire career I have sold gold to high net worth individuals looking to incorporate precious metals into otherwise diversified investment portfolios."
Best defence against theft by inflation
Schiff added that the Goldmoney platform provides "simple and transparent access to the best possible defence against theft by inflation … the hope is that market forces will compel central banks to provide a more competitive product and put the brakes on run-away-inflationism and the asset-bubble economics that is undermining living standards worldwide."
In Monday's conference call, Schiff said that while the relationship "began on an adversarial footing"  Goldmoney is doing "what I've been advocating for some time and been going on my own on a limited basis." It makes sense to have stored gold you can transact through a debit card but that doesn't mean physical gold will become a dinosaur, he said. "Rather than Goldmoney killing the physical gold business, it can dominate it. It's a lucrative market and they will be positioned for tremendous scale."
Schiff said there are lots of "shysters" in the gold business that mark up physical gold by an "outrageous" 40 to 60%, compared to 1 or 2% that Schiff Gold Inc. charges. He explained that the reason for such huge markups is that some organizations are "paying radio how hosts a bunch of money and listeners are getting ripped off."
Schiff predicted that the total number of people who end up using Goldmoney "could be in the millions." While he feels Goldmoney would succeed in any case, he felt his participation would help "accelerate" its growth curve.
The joint venture will be issued 1.063 million common shares of Goldmoney with a deemed value of $5.315 million, the equivalent of C$5 per share as well as 1.4 million common share purchase warrants. The deal, which will pay out Schiff over a 20-year period,  is expected to close within 45 days.
Gold money is described as operating "the world's largest self-directed gold savings and payments network, making allocated physical gold accessible as a currency to any person or business with internet access." For more information you can visit bitgold.com or ir.goldmoney.com
My take
While I do not personally own either BitGold or shares in Goldmoney inc., I find this an interesting deal. As I may have said in the links to blogs in the FP and Motley Fool (via the Hub links above), in this world of endless central bank money printing and quantitative easing, not to mention negative real rates of interest, a 10% "insurance" position in the precious metals asset class seems warranted.
True, another stock-market bear — Harry Dent. Jr. — is currently marketing an ebook that argues the opposite of the $10,000 gold price Schiff and James Rickards are predicting. Dent is predicting that gold will fall to $700 or less.
All the more reason not to go overboard on the asset class but even stock-market junkie James Cramer of Mad Money fame counsels a 10% "insurance" position.