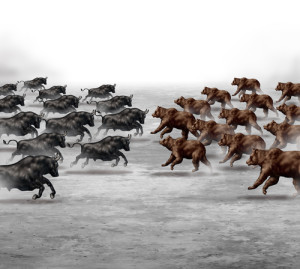 Here's my latest Financial Post blog, which looks at the record amounts of cash scared Canadian investors are sitting on during this bear market. For full blog, click on the coloured headline here: When Volatility Scares You, is it Time for Investors to Buy or Sell?
The blog accompanies Garry Marr's piece on the CIBC World Markets report released Tuesday: Ocean of Fear: Canadian investors sitting on record cash pile risk billion in lost returns.
Since markets got off to their worst January in decades, per force the Hub has been running several blogs on the topic of volatility. See also from the past week:
Hedging in the Retirement Risk Zone (which is mentioned in today's FP blog).
Volatile, Unpredictable and entirely normal.