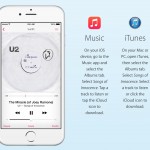 Interesting followup in the New York Times on the weekend to the September 9th release of U2's album, Songs of innocence and its controversial decision to download it unasked-for on to the playlists of half a billion iTunes users. Despite the blowback, the paper reports that 100 million people have listened to at least a song or two and 30 million people had listened to the whole album.
Including me. In this blog at our sister site a few weeks ago, I argued that U2 is going to be repaid for its experiment with many more paid downloads of its back catalogue. That's how I justified the Financial Independence angle in the blog: it was more about U2's ultimate findependence than that of its listeners. Still, I feel richer for the listening exprience.
In fact, after I wrote the first blog on the old site, I confessed I had bought two more U2 albums each for $5.99. Since I posted that, and as I predicted of myself, I've purchased most of the other albums I missed. My 23-year old daughter is already berating me for playing nothing but U2: as I said earlier, when it comes to music, I'm a serial monogamist.
Right now, I like No Line on the Horizon the best of all U2's albums. I had totally missed it when it came out in 2009, its 12th album. Remember, and as the Times points out, it was almost exactly a decade ago that Steve Jobs and U2 appeared on stage together to introduce "an odd-sounding device called the iPod and a marketplace for music called iTunes."