Day of the Oprichnik is a futuristic Russian novel has little to do with Financial Independence but with that disclosed, let me add that I think investors need to keep a close eye on what remains the United States' biggest nuclear rival.
This week's issue of The Economist is a good place to start, with a cover story on Vladimir Putin:  Putin's War on the West, as well as this in-depth feature on What Russia Wants.
As we noted in an earlier Hub review of a trio of books on Putin's Russia, when you add in the geopolitics of plunging oil prices and the perpetual skirmishes with the Chetchens  and the escalating brinkmanship in the Ukraine, it might be useful for investors to keep tabs on this rogue Capitalist state.
As so often is the case, art sometimes imitates life and sometimes anticipates it. Day of the Oprichnik was published nine years ago and is looking more and more prescient. Vladimir Sorokin, born in 1955, is a prize-winning novelist based in Moscow and also wrote The Ice Trilogy. Day of the Oprichnik was published in Russia in 2006 and the first American translation was only in 2012.
Below, we also look at two more recent non-fiction books on Putin's Russia: 2013's Fragile Kingdom and the just-published (2015) Red Notice.
Destined for Silver Screen?
But first, back to the novel. To sum it up in a sentence, I'd say Day of the Oprichnik is a combination of A Clockwork Orange and Fahrenheit 401, which filmmakers may wish to take note of. It depicts Russia in the year 2028, extrapolating a number of trends that have been apparent in today's Russia, aptly described as a "Videocracy" by Ben Judah in Fragile Empire. (See below)
The main character, Komiaga, is one of the czar's trusted courtiers and feared by any noble whose home is designated as ripe for destruction. The hooliganism comes right from the top and the oprichniks [my memory aid for this was "Oppress the Rich"] rape and pillage just like Alex's gang of droogs in A Clockwork Orange. And there is a fair bit of Bradburyesque burning of books as well.
As one reviewer put it, this "terrifying vision of modern Russia projected two decades into the future" may not be the future at all but ominously current.
Fragile Empire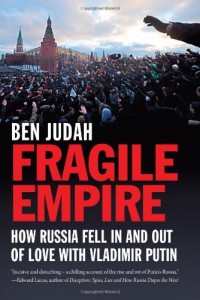 Ben Judah is a young writer born in 1988, just a few years before the Soviet Union collapsed. Oxford-educated he's travelled widely in Russia and Central Asia. This 2013 book is more current than many other books about Vladimir Putin mentioned in the link above.
He mentions Day of the Oprichnik twice in his excellent non-fiction account of the faded love affair Russia has had with Putin. You can almost draw a straight line between the recent past depicted by Judah, and the near future imagined by Sorokin.
"This is a thin satire on Putin's State. yet the idea of a country dominated by an arrogant, at times criminal, elite was not just a flight of fancy," Judah writes in opening Chapter 6 (Dizzy with Success).
Some choice passages from Fragile Empire:
Russia became a videocracy that gave censored TV to the masses but allowed free newspapers and blogs for the intelligentsia.
Summing up the short-lived "yellow ribbon" protest campaign of 2011-2012, Judah says:
The movement did not mark the end of the regime. It exposed the regime's power for what it was — based on controlling gigantic assets, TV media and the security organs, not legitimacy and the acclaim of the elites … For the moment, discontent is vast, but resistance tiny.
Red Notice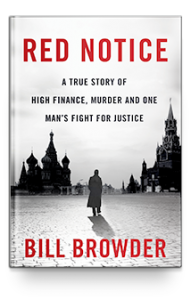 Bill Browder's just-published Red Notice has already been favourably reviewed by such prominent mainstream media as the New York Times and The Economist.  Of the three books mentioned on this blog, this will be of most interest to investors, since it describes the experiences of what at one time was the largest foreign hedge fund in Russia: the Hermitage Fund.
Investors will find the early chapters fascinating, as Browder — a Chicago native who got a Stanford MBA  and spent some of his early career at Salomon Brothers — became one of the earliest foreign investors in Russia following the breakup of the Soviet Union. At the time, he uncovered many deep value plays (some of them 100 baggers) but in the process also uncovered much skullduggery.
While it might be nice to get into a time machine and make a fortune in Russia as Browder did, by the time you finish the book, you'd conclude that anyone who invested a dime in modern Russia would need their head examined.
As Browder experiences first hand the Putin Russia described in Fragile Nation and prophesized in Day of the Oprichnik, the "biography" morphs from the story of an American capitalist in Russia to that of a human rights crusader: the true story revolves around the horrendous murder of Browder's tax lawyer, Sergei Magnitsky, who was murdered in prision in 2009 after uncovering a $230 million fraud perpetrated by what appears to be the highest levels of the Russian government. The last third of the book recounts Browder's quest for justice for Magnitsky via the U.S. Government's Sergi Magnitsky Rule of Law Accountability Act of 2012.
The title Red Notice, incidentally, is defined at the outset as "a communication issued by Interpol requesting the arrest of wanted persons, with a view to extradition. An Interpol Red Notice is the closest instrument to an international arrest warrant in use today."  Russia issued a Red Notice in an attempt to limit Browder's international travel but in what was a rare occurrence, Interpol did not enforce it.
Just one thing: the library copy I read was badly printed: pages 19 to 50 are missing, with some other pages reproduced twice. I have no idea whether this was limited to a handful of copies or a large part of the print run but those contemplating the purchase of the book should skim those pages to make sure their copy is not part of this flawed print run.