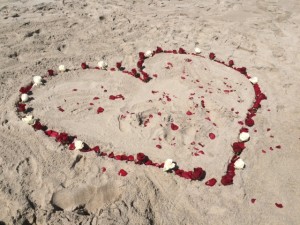 If you're looking for last-minute Valentines shopping ideas that can save money to boot, check out this blog from financial blogger Tom Drake.
You can find more on the same theme here at Financial Highway, where the writer goes beyond the beaten path with his suggestion of writing a love letter. Or a "personal gift card" providing various future services to be rendered. (around the house, of course!)
Try the Everything Store
If you're really stuck for ideas, try Amazon.com, which has set up a whole page of Valentine gift suggestions, including an Amazon gift card.
 Financial Tips for Couples
More prosaically, in the weeks leading up to the Great Day, Met Life issued a top-ten list of tips for couples to achieve their financial goals.
Beyond Valentine's Day
The Get Rich Slowly blog reminds us that three in four women think more about money than sex and that stress related to financial problems can put a real damper on relationships.
Tired of saving for Retirement?
We feel your pain but don't try this gambit in a recent piece from the Frugal Rules blog.
Anyway, budgets are stupid
Or so says the Pretty Little Poor Girl blog in this decidedly contrarian piece in the personal financial blogosphere. Here's a quote from the piece that's worth framing:
"What does it matter, as long as the total of what you spend, is below the total of what you make?"