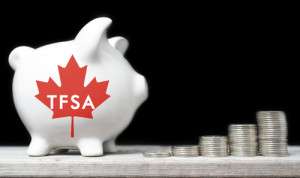 Here's my first FP blog of 2016: How to find the money to max out your TFSA in January to make the most of your tax-free savings.
As intimated in the Hub's New Year's Day post on Friday, it's about the first major investing action you can take in 2016: topping up your Tax-free Savings Accounts (TFSAs) by an additional $5,500 (down from $10,000 in 2015.)
On a personal note, since we eat our own cooking here at the Hub, I made contributions for myself and my wife on Friday. Depending on how you execute the transfers, this may or may not be an instantaneous process.
Transfers may not be instantaneous
Cash contributions from your main bank account into your TFSA should be real-time and therefore virtually instantaneous. But contributions "in-kind" (even of cash) from a non-registered account into your TFSA may take a full business day or two to settle. The main thing is not to accidentally contribute twice if it appears not to be instantaneous. If in doubt, check with your financial institution: you definitely don't want the hassle of accidentally over contributing and then reversing the transaction. That would more than negate the benefits of getting the money in as soon as possible and benefiting from the tax-free compounding.
As for the fact markets are down today over China, that's not necessarily a negative. Buy low, sell high, right? if feeling queasy about what the rocky start to 2016 augers, consider low-volatility ETFs, which seemed to have proven their mettle in 2015.
Finally, as noted at the end of the FP blog, the "Preserve our $10,000 TFSA" petition sponsored by Working Canadians is still on. The way I see it, contribute the $5,500 we're permitted and be happy about it, and then you can sign petitions and help lobby for the larger amounts.