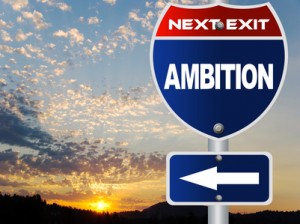 Can you be happy without ambition? That's probably not a question many of us ask ourselves, but it was posed by Joe Udo the other day at his Retire by 40 site: Can you be happy without ambition?
I don't know about Joe's professed lack of ambition but in my view, achieving early Findependence by 40 and running a web site about how you did it qualifies as ambitious. And as I've often argued, such activities really do not constitute retirement in the sense of doing absolutely nothing all day long. Joe and the many other Early "Retirement" gurus are still working, and from what I've experienced the past year, are probably working pretty hard. Same with writing books and giving paid speeches. It's still work  but there is some freedom being outside the corporate gilded cage.
Over at Million Dollar Journey, occasional Hub contributor and millennial Sean Cooper spills the beans on his personal net worth and his plans to be financially independent by his early 30s. Sean told his story at the Hub shortly after its launch in November in this piece: How to reach Mortgage and Financial Freedom by 31.
Hey, I'm twice that age and still working. Guess I must be a slow learner. Or perhaps we need another perspective on working and retirement. Jim Yih at the Retire Happy blog has a useful read on this topic, entitled Who Says You Need to Stop Working at 65?
On the other hand, a study in the U.S. shows that many retirees actually ended their full-time working careers a few years ahead of plan, chiefly because of workplace changes or having to deal with health issues affecting either themselves or a spouse. See this Forbes article titled The Common Retirement Assumption That's Flat Wrong.
The New York Times just ran an interesting update on William Bengen's famous 4% annual "safemax" withdrawal rule: New Math for Retirees and the 4% Withdrawal Rule. Bengen himself has been retired since 65 (he' s now 67) and practices what he preaches but he still suggests hiring a good financial adviser to run your projections.
Emma Johnson's WealthySingleMommy blog recently ran an article that may interest those with matrimonial troubles: 12 things I've learned about marriage from my divorce. One thing is for sure, financial independence is a lot easier to reach if you stay married. As one contact of mine in the financial industry has told me more than once (in the context of hefty alimony payments), the biggest financial mistake he ever made was getting divorced.
That's not a mistake I've made myself — fingers crossed! — but speaking of financial mistakes, later this month I'll be giving a talk on the 7 biggest financial mistakes I've personally made. It will be on Wednesday, May 27th, 6 pm to 9 pm at the Mississauga Convention Center. Other details and names of the other 5 speakers here. There will be various book giveaways and signings including, yes, Findependence Day.
Older readers with aging parents well know the importance and difficulties of finding a caregiver. At her Retirement Redux site, Sheryl Smolkin provides useful tip on How to hire a caregiver. If you're in this situation, you may also want to check out a blog from Lee Anne Davies' Agenomics site: Reasons older adults resist relocation.