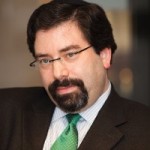 Dealing with Longevity Risk is a "hot topic," according to someone who's an expert on the topic. Read this "as told to" interview with Moshe Milevsky, the prolific financial author and finance professor at the Schulich School of Business.
The risk is that as people go from savers (Wealth Accumulation) to relying on retirement income (Decumulation), there's always the danger of running out of money before you run out of life.
There is of course a solution called annuities but for some reason both investors and their advisors aren't yet flocking to them. This may be because it involves losing control over your capital to an insurance company and is an irrevocable decision, at least for the portion of your capital being annuitized. Another reason is it often means that capital won't be available to one's heirs, depending on the options chosen.
Interest rates low, but mortality credits on annuities become important as you age
Even so, Milevsky tells the site that "single premium income annuities are often under-rated as a retirement planning tool." Yes, interest rates are low but Milevsky argues that as you get older, mortality credits become relatively more important. In the end, it's all about peace of mind.
In any case, no one ever said you have to annuitize  ALL your capital. Read Milevsky's piece and you may conclude that at least some of your capital might be annuitized at some point.