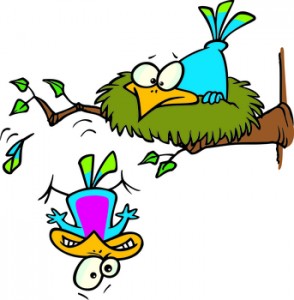 My latest MoneySense blog posted today carries the curious headline that most Millennials expect to achieve "financial independence" by age 27. I put "air quotes" around the phrase financial independence because of course it's nonsense that merely leaving the nest and putting fewer demands on the Bank of Mum and Dad constitutes true financial independence.
Keep in mind that the research firm cited in the piece seems to use quite a different definition of Financial Independence than the one used at this site or as formally defined at Wikipedia. For research firm yconic, it seems financial independence means merely leaving the nest and landing a job that pays at least the monthly rent: they are merely "financially independent" of mum and dad.
Even with that loose definition, only 56% of older millennials (aged 30 to 33) say they have "achieved financial independence."
With these savings rates, true Findependence for many millennials is a pipe dream
It's just as well they're using such a loose definition because the way the younger generation spends, it's going to be a long long time before they achieve the kind of financial independence this blog describes.
To sum up the difference, I'd say "our kind" of Financial Independence is being able to stay afloat financially without the traditional source of single income known as "a job" or full-time employment. It's quite a leap to go from moving out of the parental nest to being able to survive with neither parents nor an employer to keep those regular financial injections flowing into your bank account.
Far from being findependent, almost half the millennials surveyed (46%) admitted "saving money is a struggle" even if they are able to afford to pay the bills. A third say they are living paycheque to paycheque and are barely making ends meet. Fully 43% still rely on their parents for financial assistance, including 37% who look for help paying their student loans off. Does that sound like "our" kind of financial independence?
Non-saving millennials should find a Government job with a DB pension and stay there
I hate to break it to the non-savers but if they don't start saving soon, they'll never be able to achieve true financial independence. They had better be prepared to work until age 67 and be able to live on Social Security (in the US) or on the Canada Pension Plan, Old Age Security and possibly the Guaranteed Income Supplement (GIS), or find a good Defined Benefit pension plan somewhere and hang on to the job for three or four decades. (may as well try the Government first: their DB plans are most likely indexed to inflation and ultimately backstopped by taxpayers).
If there's hope for them, it's in the finding that most millennials hope to buy a home at some point. I like that because I always say the foundation of financial independence (our kind, that is) is a paid-for home. But even among those who already own a home, 32% got parental help rustling up the down payment. Among those who don't, a quarter of them (24%) expect their parents to help them with the down payment.
Some millennials do have their act together
I don't mean to disparage millennials' aspirations for Financial Independence altogether. Read elsewhere on this site how two millennials aim to be mortgage and debt free in their early 30s. Both of them know all about frugality, saving and deferring instant gratification. Of course they both read the book featured on our sister site!
I also suggest reading a guest blog posted on this site earlier this week on why millennials should be planning NOT for retirement, but for Financial Independence. The true kind, that is!
Some book suggestions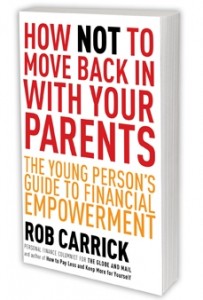 Parents who have yet to kick the little birdies out of the nest might consider giving them a hint about what true Financial Independence entails by investing US$2.99 or C$3.37 in either of these e-books featured elsewhere on this site. Might make a great stocking stuffer! (Just gift the e-book via Amazon and maybe insert in the stocking a card telling them to check their Kindle).
I also suggest that millennials or their parents get a copy of Rob Carrick's book, How Not to Move Back In With Your Parents.
As we speak, my own daughter is reading it.