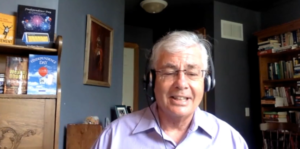 As those who have clicked on some of the 37 interviews featured at this week's Canadian Financial Summit will know, there's a lot of content to absorb.
One of those 37 talks was my chat with Kornel Szrejber for a talk titled Semi-Retirement: the Halfway House between Employment and Full Retirement.
To find it, you need to click on this link and then scroll down to my name, or whichever of the other 36 speakers you are interested in hearing. Each name is highlighted in blue and is a hyperlink to the actual interview. At the bottom of this blog you'll find a link to Thursday's content, including my conversation with Kornel and PWL's Ben Felix about the MoneySense ETF All-Stars.
Similar to my MoneyShow Zoom interview earlier this week that was also about the MoneySense ETF All-Stars 2021 edition, the video with Kornel shows me in my home office: like all regular Zoomers, some of the books I have written are not too subtly displayed over my right shoulder.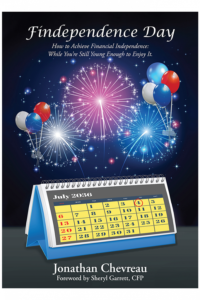 Regular readers of the Hub will likely find my interview with Kornel to be somewhat familiar. We cover the topic of Findependence, which is a term I invented and introduced with the first Canadian edition of my financial novel titled Findependence Day. You can still buy the original book by clicking on the site.
Alternatively, you can click on the "Buy US edition" tab and you can find the first US edition published by Trafford, or the just-published second US edition published by Best Books Media in New York. Apart from focusing on US financial rules, the second edition also includes end-of-chapter summaries that weren't in the original edition. It also puts more emphasis on the "Work Optional" theme.
Victory Lap
As the title of the interview with Kornel suggests, I view Semi-Retirement as a halfway house between full traditional salaried employment and the old-time Full Retirement that used to commence the moment you reached age 65. I am now three years beyond that, so am well into what Retirement guru Doug Dahmer calls the "Work Optional" phase. Another term for this is Victory Lap Retirement, which is the title of a non-fiction book I coauthored with former banker Mike Drak.
During our chat, Kornel asks me about what I've been up to since I left full-time employment in 2014 and how Findependence differs from traditional Retirement. As I say to friends and family, I try to work just three or four hours a day but when you're operating a website aiming for fresh content every business day, it's hard to really "retire" in the usual sense of the word.  It's all about "encore" careers, although I saw a clip on Twitter yesterday that suggested that in the post-Covid world, aging baby boomers are becoming a bit disillusioned with the Encore career idea and are increasingly inclined to really slow down and smell the roses while they and close friends and family are still healthy enough to enjoy their leisure.
More on the MoneySense ETF All-Stars
The other of my presentations at the Canadian Financial Summit was a three-way chat with Kornel and PWL Capital's Ben Felix, about the MoneySense ETF All-Stars 2021. It's an audio-only conversation taped in the summer and you can access it through the usual podcast platforms here.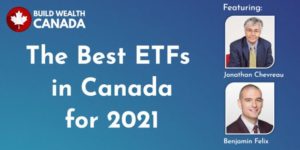 We cover similar ground as I did this Tuesday in the MoneyShow Zoom call.  The difference is that Ben offers up some deep ETF expertise on some of Kornel's more probing questions. However, the MoneyShow version this morning also includes slides, many of which are actual pages from the MoneySense site, focusing in on all the major categories of Canadian equities, US equities, international equities, and Fixed Income. We also look at the One-Decision Asset Allocation ETFs and the so-called Desert Island ETF picks where each of the eight individual panelists can champion their own pet ETFs.
Day 3 of the Financial Summit continues today (Friday) and wraps up Saturday. It's best to view the presentations within a day or two of their delivery while they're still available for free;  after the event is over, you'll need to pay for an All-Access pass.
Below is the email sent out Friday morning:
Yesterday's talks were the perfect start to the 2021 Summit. I'm sure Rob's talk on renting will trigger some strong feelings one way or the other! Kyle told me that he has already gotten several emails in regards to the tax-free portfolio countries he outlined.
Click Here to see your Day 2 Summit Sessions.
In case you missed it, you can still access the Day 1 Talks and the Launch Event from this page. Important: Remember that the Day 1 talks will be offline soon to all non All-Access-Pass holders, and you can still get the All Access Pass at 50% off here (until Sunday night). After that the price will double.
If the Day 2 link doesn't work, please try copy and pasting the following into your browser:
https://canadianfinancialsummit.com/2021-day-2/
Here's what Day 2 is serving up:
Mahima Poddar
Online Banking Solutions for Your TFSA, RRSP, and Currency Conversion
Ed Rempel
How to Reliably Maximize Your Retirement Income – Is the "4% Rule" Safe? New Retirement Rules of Thumb
Daniel Goldgut & Arin Klug
How Online Wills are Improving Access to Justice in Canada
Jonathan Chevreau, Ben Felix, Kornel Szrejber
The Best ETFs in Canada for 2021
Peter Hodson
How to Find the Best Stocks in 2021-2022
Kevin McCarthy – TFSA Creator, Former Chief of Staff
Registered Accounts With Kevin McCarthy
Jiten Puri, Carly Griffin, Sonam Dorjee Lama
6 Ways To Save Money on Life Insurance
Kevin Cochran
How to Raise Financially Responsible Kids
Kristy Shen and Bryce Leung
Life After FIRE – Don't "Burn" Out
Ryan Modesto
Over 15 Market Charts You Can't Miss!
John Robertson
Is Every Asset In a Bubble?!
Barry Choi
Maximizing Post-Covid Travel Points in Canada + The New Aeroplan
Mark Seed
Use Your Corporation to Shelter Investments – and Then Pay Yourself
Thanks for joining us this year!
Kornel
P.S. If you don't have enough time to catch all our expert speakers, keep in mind that you can get lifetime access through our All Access Pass. The price will double at the conclusion of the Summit. If you want to lock in your discount simply click here and take advantage of our half-off sale before it's gone.