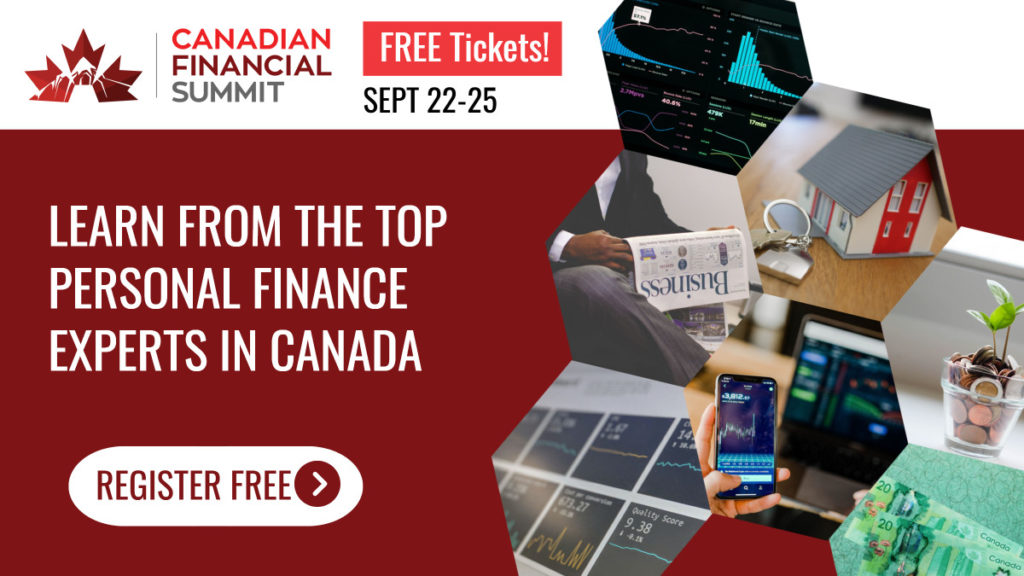 Yesterday, Wednesday, Kornel Szrejber's all-virtual Canadian Financial Summit kicked off,  running until Saturday, Sept. 25. As the image above shows, you can register free. Here is the main link for info on the more than 35 presentations.
Now that Day One of the Summit has taken place, the organizers issued this update:
Good morning. If you couldn't make it to the kickoff webinar last night, feel free to check out our recording here and then let me welcome you to the Canadian Financial Summit!
A special thank you to those of you that took the time to help us spread the word on social media, and who emailed us encouraging messages about the Summit Kickoff.
We've received hundreds of emails from attendees this week, so if you submitted a question, I promise that we'll get to it, we're just working through them in chronological order. If you don't want to wait, then definitely check out the kick-off event video that I posted yesterday, as there's a 90%+ chance that your question is answered in that video.
Today [Sept 23] we're super excited to feature the following speakers (free for the next 48 hours):
Rob Carrick
Can Renting a Home Actually Make More Financial Sense for Some Canadians?
Ellen Roseman
How to Protect Yourself as a Canadian Consumer in 2021-2022 + Retirement Strategies for Canadians
Ed Rempel
Self-Made Dividends – Better than Ordinary Dividends in Every Way
Bridget Casey
What Role Should Cryptocurrency Play in Your Portfolio?
Kyle Prevost
Want an Unlimited TFSA? Move to These Countries and Build a Portfolio Tax-Free!
Ben Felix, Brendan Wood, Tim Nash
FAQs and Misconceptions about DIY Investing
Alanna Abramsky
Understanding Credit and Managing Debt
Jonathan Chevreau
Semi-Retirement: The Halfway House between Employment and Full Retirement
Mike Heroux
Are Dividend Stocks In a Bubble?  What Market Is Safe?
Andrew Hallam
Balance – How to Invest and Spend for Happiness, Health, and Wealth
Ben Felix
What is Factor Investing, Why Do Smart People Like It, and Can It Make You Money?
Robb Engen
Don't Let FOMO Rule Your Investment Decisions
Click here to see your Day 1 Summit Sessions.
If the link doesn't work, please try copy and pasting the following into your browser:
https://canadianfinancialsummit.com/2021-day-1/
My presentation is the one titled Semi-Retirement: the Halfway House between Employment and Full Retirement.
It consists of a 45-minute Zoom interview with Kornel is pretty wide-ranging but focuses on Retirement Income, as opposed to Wealth Accumulation. That's Semi-retirement: or as Doug Dahmer and other retirement gurus have dubbed it, the "Work Optional" phase of our working careers.
Here's the formal description for that talk:
September 23:
Should you transition into a semi-retirement instead of a full-stop retirement? What if doing so allowed you to 'retire' many years earlier?
Join us as we speak to someone who has done exactly that: Jonathan Chevreau, professional writer and former Editor-in-Chief of MoneySense Magazine takes us through his real-life lessons learned from transitioning to the decumulation phase and actually living off the investment portfolio. 
To access the video, click the highlighted title above and scroll down to Jonathan Chevreau, then click on the highlighted name.
We cover:
How Jon ensures that he doesn't run out of money in retirement
The investment withdraw strategy that he prefers
How he withdraws from his investments in a tax efficient way

Important lessons to know before transitioning to semi-retirement or full-stop retirement 
On Friday, Sept 24, the MoneySense ETF All-stars are the focus of a three-way chat between myself, Kornel and PWL Capital's Ben Felix (who is also an ETF panelist for the All-stars). Here's the formal Summit description:
September 24:
In this video presentation, we're going to cover the top ETFs in Canada, specifically for Canadian investors. 
These findings are based on 8 experts in this field who are part of the Best ETFs in Canada Guide which is published annually on MoneySense and written by the one and only Jonathan Chevreau.
In this interview and presentation, we're going to talk about what the findings were with the creator of the guide, and one of the top Analysts from the panel (Benjamin Felix, Portfolio Manager at PWL Capital).
MoneySense ETF All-Stars talk kicked off the MoneyShow and ETF Investing Virtual Expo
As it happens, the MoneySense ETF All-stars were also a major focus of the MoneyShow and ETF Investing Virtual Expo, which went live  on Tuesday, [Sept 21] and wrapped up yesterday [Sept 22.]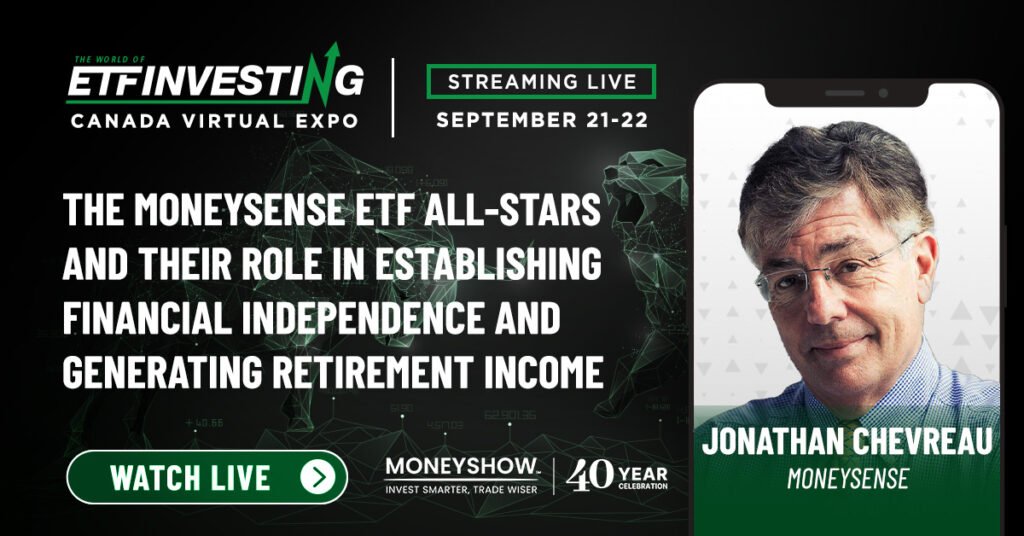 While it is now in the past, if you missed my half hour talk Tuesday morning to kick off the MoneyShow, you can find my keynote address here.  And here's the Hub summary published earlier this month. As you can see from the image on the right, it's a recap of the MoneySense ETF All-Stars 2021 and how retirees and those still accumulating retirement savings can use ETFs to meet their long-term financial goals. The slides, many of them from the MoneySense.ca ETF All-stars package available here, should be available after the fact.
The talk was about 25 minutes, followed by a 5-minute Q&A. One of the questions was about the implications of Monday night's federal election and the renewed Liberal minority government for a change (i.e. rise in) capital gains taxes.