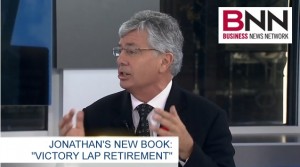 Apparently, the handover of power from the Conservatives to the Liberals was deemed as more newsworthy this week but we at the Hub did note via a Tweet that our first-year birthday came and went on Wednesday, Nov. 4th. Happy birthday to us!
Starting with Mike Drak's Halloween blog last Saturday, we have revealed that the title of the "Life After Findependence" book we've co-authored will be Victory Lap Retirement. The book is now with the editor and should be out in the new year.
There was a "sneak peek" of sorts on Monday on Larry Berman's Berman's Call segment on BNN, which you can find at Findependence.TV or clicking on Saving for Retirement in a low-return world. Gee, there's that word retirement again!
Also, I'll be providing a more in-depth peek at the book in three presentations entitled From Findependence to Victory Lap Retirement, the first of which is scheduled this Sunday in Vancouver. We go to Calgary on Nov. 22 and Toronto Nov. 29th, all Sunday engagements. You can find details and register for these, as well as other cities and dates, here.
We plan to send out pre-release PDFs of the book next, in order to improve accuracy and  possibly generate a few testimonials. If you're a "media influencer," feel free to ask for one by emailing me at jonathan@findependencehub.com
By the way, this theme of the Boomers not being ready to stop working in Retirement is also being explored this weekend by the Globe & Mail. See I don't believe in Retirement: 5 Boomers on why they're not ready to quit.
New Finance Minister Bill Morneau wrote the book on Retirement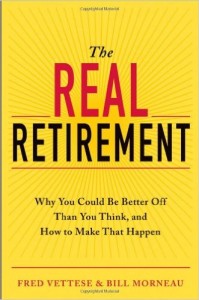 The new finance minister, Bill Morneau, seems a wise choice given his intimate understanding of the retirement world. He co-authored with fellow Morneau Shepell writer Fred Vettese a book called The Real Retirement.
Fred also has a new solo book on retirement coming out, from which the Financial Post has been running excerpts most Mondays. The Essential Retirement Guide: A Contrarian's Perspective is scheduled for release on Dec. 14.
Whether Morneau will be sympathetic about the campaign to preserve the annual $10,000 contribution limit on TFSAs remains to be seen. This weekend the National Post profiled Morneau: A CEO, but not exactly a Bay Street guy. The Globe & Mail also has a profile of Morneau this weekend, titled Finance Minister could be what Parliament needs.
Toward the end of the profile, writer Peter Kuitenbrouwer notes that Morneau this week told the CBC that "Canadians aren't save enough to have  a secure retirement." On the other hand, as the book's subtitle above suggests, you "could be better off than you think."  I have to believe that more than most politicians, Morneau is well aware of the benefits of TFSAs for Canadians who lack the DB pensions that public-sector workers and politicians themselves enjoy.
He will also know that far from being totally "tax-free" that TFSAs are really "tax-prepaid" savings plan: Ottawa gets its tax hit upfront, and then again when non-registered securities are transferred "in kind" to TFSAs, or when noney is withdrawn (and tax paid) on RRSPs or RRIFs. (more on this below)
Save our $10K TFSA petition, and tell six friends to sign up
Close to the Hub's heart is the petition to save our $10,000 TFSA contribution room, spearheaded by Catherine Swift of Working Canadians. Catherine wrote a blog on Friday for the Hub and we fully support the petition: See Majority of TFSA owners want the $10K limit — join petition to preserve it.
Despite some media skeptics who think we should just sit back and accept the almost-halving of TFSA contribution room, we at the Hub do not plan to "just forget about it." As Catherine points out, a poll found that more than half the 11 million Canadians who have TFSAs did NOT want to see the Liberals reduce the annual contribution amount. If indeed 5.5 million Canadians are happy with the TFSA as it is now, what could be more middle-class than this group?
I believe some in the press do not really understand TFSAs: it would have been better to have retained the earlier proposed name for them: Tax-PREPAID Savings Plans. What does that mean? It means that in order to come up with that $10,000 contribution in the first place, someone in the top tax bracket has first to earn $15,000 of income, pay $5,000 in income tax (combined federal and provincial), and only then contribute the $10,000 that remains. Ottawa gets its slice of the pie up front and it's a mighty big whack!
Without the TFSA, the government would the tax further (annually), all dividends, interest and realized capital gains on that remaining capital. In other words: double taxation. (or triple, if you count consumption taxes upon deploying the money).
The Working Canadians' petition has already gathered signatures in the thousands but there's a long way to go to 5.5 million. We're suggesting that in addition to signing the petition, every TFSA holder that cares about this issue should email or use social media to convince six other people to sign the campaign. That way, in a "six degrees of separation" fashion, we can get the message across in numbers that may get the attention of the new Liberal government.
After all, if they indeed do care about lowering the tax burden on the "middle class," what could be more middle-class than millions of TFSA owners who don't enjoy the fat pensions of public-sector workers and politicians.