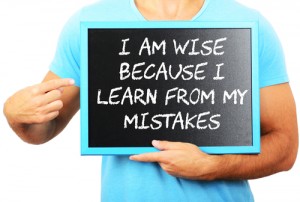 Mistakes? I've made a few! This weekend the Financial Post is running a column I wrote based on a speech in the spring reprising my seven biggest financial mistakes. It's titled I sold my Apple shares too early and 6 other financial mistakes that still haunt me.
And of course, a week ago — as we mentioned in last Saturday's Wrap — MoneySense.ca ran a series of blogs by me on "the mistakes you're probably making" in various subsets of personal finance: saving, debt repayment, selling a home, investing and retirement.
I have no problem making mistakes, the key is to learn from them and try not to repeat them!
For some reason, the media seems fixated on financial mistakes. Curious, a Google search revealed more on this theme. Check out Investopedia's Top 7 Most Common Financial Mistakes or Forbes' The 13 Biggest Money Mistakes People Make.
Sneak peek of Victory Lap Retirement
On Sunday, I'll be speaking in Calgary, giving attendees at Larry Berman's education event a sneak preview of the new book I've written with Hub blogger Michael Drak: Victory Lap Retirement. Mike's latest blog touching on this ran on Tuesday under the headline What's Money got to do with it? As we've told several readers, the book is still with the editors so is unlikely to be available until the new year. However, we hope to distribute pre-release PDF versions to opinion leaders and media, so feel free to request one via jonathan@findependencehub.com.
We gave the same presentation in Vancouver on November 8th and will be back in Toronto on Nov. 22nd to reprise it again.
Video series on Indexing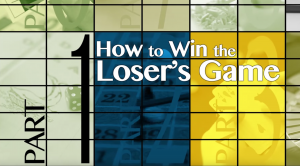 Working with Financial Wealth Builders, we continue to ramp up content at sister site Findependence.TV. We have previously highlighted FWB TV's short (two or three-minute) videos on indexing and portfolio management that are housed on its site here. But via an arrangement Financial Wealth Builders has made with Sensibleinvesting.tv it is now making available (on YouTube) a longer series of ten videos entitled How to Win the Loser's Game. Regular followers of passive index-based investing will recognize that title as the excellent book by Charlie Ellis, Winning the Loser's Game. We will post these videos every week or two at Findependence.TV, along with any other videos we find are worth passing on.
TFSA Petition
The TFSA petition continues to grow and get exposure. On Wednesday, the Hub ran a guest blog by Bill Tufts that we titled Let's level the playing field between TFSAs and Public-sector pensions. On Thursday, Motley Fool Canada ran my own latest blog on this continuing saga, titled Why the $10,000 TFSA limit will help the middle class. This also ran online at the Financial Post.  Lest we forget, you can find the petition to preserve the $10,000 annual TFSA limit at www.workingcanadians.ca/saveour tfsa.
Books: How to Flourish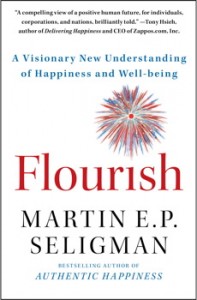 Here's another book from Martin Seligman that I just finished reading: Flourish: A Visionary New Understanding of Happiness and Well-being.
A related website, Authentic Happiness, has plenty of free questionnaires that help assess your optimism, happiness and related matters.